Athletic national pool selected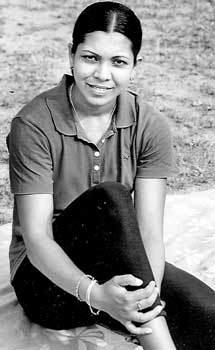 Jani back in the fold
The selectors of the Athletic Association of Sri Lanka have released the names of the national athletic pool for the period 2007/08 which consists of 44 in the men's category and 37 in the women's category. They have limited two athletes for an event while six have been picked for the relay events.
The pool was picked after considering the performances of all the athletes who took part in the above main championships during this year in October and November. National Athletics Championships, final selection trial for the South Asian Junior Championships, and the South Asian Junior Championships held last month. Also athletes who have obtained over 1050 points given by the IAAF scoring table during the period of June to November have been considered.
Men:
U.S. Surendra (100m , 4x100m), Ashan Hasaranga (100m, 200m, 4x100m), S.M. Weerasuriya (200m, 4x400m), Prasanna Amarasekera and Asoka Jayasundara (400m, 4x400m), P.K. Mendis, H.K.S. Priyantha and Suresh Abeynayake (800m), M.C. Wijekoon and A.C. Wijesinghe (1500m), M. Ajanthan (5000m, 10000m), Ajith Bandara (5000m, Marathon), M.E. Tennekoon (10000m), G.N. Tharanga and S.D. Weerasinghe (110m Hrudles), P.Y. Ajith and Lal Samarasinghe (400m Hurdles), J.G.S. Ranjith and P.S. Pushpakumara (3000m Steeplechase), D.P. Ratnasiri and S.S. Fernando (High Jump), Ruwan Pradeep Perera and C.P. Senaratne (Pole Vault), N.P. Dharmaratne and Sajith Nadeeshan (Long Jump), Nuwan Chamara Gamage and C.S. Weerasinghe (Triple Jump), L.U. Perera and Banda Jayaweera (Shot Putt), T.F. Alailama and K.W. Kodituwakku (Discus), H.K. Gunatilaka and Asanka Prabath (Javelin), Mohamed Sameer (Decathalon), S. Jeewakumaran (Marathon), B.M.N. Nayanananda and R. Ariyaratne (20km Walk), D.P. Silva, W.J. Fernando, Shehan Ambepitiya and Keith de Mel (4x100m), Rohitha Pushpakumara, Gayan Sumeda Ratnayake and M.D. Mudungedera (4x400m).
Women:
Buddhika Sujani and D.P. Priyadharshani (100m, 200m, 4x100m), Jani Chaturangani (100m, 4x100m), Menaka Wickramasinghe and L.S. Irangani (400m, 4x400m), K.L. Gunawardena (400m, 4x400m), Geethani Rajasekera (800m, 4x400m), A.S. Sandamali (1500m), D.A. Inoka (5000m), BG.L. Bogahawatte (5000m, 10000m), M.A. Chandrawathie (10000m, Marathon), G.L. Maduwanthi (100m Hurdles, 400m Hurdles), N.S. Kumari (100m Hurdles), H.N. Geethika (400m), K.A. Abeyratna and Dilhari Manjula (3000m), Priyangika Madumanthi and Dulanjali Ranasinghe (high Jump), Anne Piyumali and Ishara Udayangani (Pole Vault), C.D. Priyadharshani (Long Jump, Triple Jump), D.E. Ratnasiri (Long Jump), Ruwini Rubasinghe (Triple Jump), M.D. Muthunayake and Devni Madurapperuma (Shot Putt), P.N. Wijesundara and Sonali Weerasekera (Discus), Nadeeka Lakmali and E.P. Nilmini (Javelin), Manjula Kumarasinghe (Marathon), G.G. Nandani and R.D. Dilrukshi (20m Walk), D.G. Pathmakumari and Hiyanthi Piyandigama (4x100m), Chandrika Subashini (4x100m, 4x400m), Deepika Jayawardena and S.M. Soysa (4x400m). - MSA