Vaasi laments on poor local turnout in Colombo
We felt that we were playing England in England
After an exhilarating test match in Kandy, the Colombo test last week was an anti-climax, barring a few individual performances: the wicket was flat, the prospect of a result was slim and finally the weather intervened to bring the match to a premature close.
The manner in which the Sinhalese Sports Club (SSC) track behaved was truly surprising. Usually, there is some movement especially in the first few hours of the game and I was happy when England won the toss and decided to take first lease of the wicket. But once out there, I realised this was not to be and that the bowlers were in for a long haul.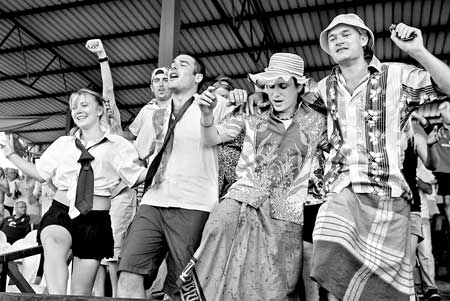 The English fans dominated the proceedings beyond the ropes in both tests. Will there be a difference even this time?
Even so, to keep England down to 258 for 5 at the end of the first day was good work. Particularly between lunch and tea, we pegged them to two runs an over and prevented any chance they had of piling up a good score quickly. Considering the state of the pitch, this was an achievement.
Early on in the second day, we had a glimmer of hope when we managed to pick up their last five wickets for 82 runs, 74 of those coming from a partnership between Prior and Sidebottom for the eighth wicket.
But we were then put on the back foot by early losses of Tharanga and Sanga and at 22 for 2, rebuilding the innings was the key. This Vandort and Mahela did admirably with their 227 run partnership for the third wicket.
Vandort, it appears, is ready for the big stage now. He has played only thirteen tests but already has four hundreds to show for it. He is keen to cement his place in the side and I hope he continues in the same vein. Given experience, he could be an ideal replacement for Marvan.
Mahela's of course, was a captain knock. Its beauty was in the way he approached it. He had to take his innings in stages, first ensuring that we didn't lose any more early wickets, then inching towards the English score and finally getting a lead and stretching it thereafter. When he finally fell, trying to increase the scoring rate and also reach what would have been a double hundred, we were nearly seventy runs ahead.If someone thought that the 'other' Jayewardene's knocks of 51 and 20 in the first test were just a bonus, he showed in this game that he could be a batsman in his own right with his knock of 79. It was crucial in the context of the game and together with Dilhara he ensured that we had a commanding, nearly 200-run advantage which we could throw back at the Englishmen.
There has been a lot of discussion about our declaration. Many thought it came a trifle too late and made it easier for the Englishmen to save the game. I disagree. We thought we needed a 200-run lead to put them under real pressure and that is what we were aiming for.
We may have scored slowly in the process but the English bowlers stuck to their task. Their plan was to prevent quick runs, bowling on one side of the wicket with Harmison relying on a strategy of bowling mostly short pitched deliveries.
In England's second essay, we used seven bowlers with little luck. To give them due credit, they batted well with all the batsmen in their top order recording good scores, even if the wicket was placid and offered nearly nothing by way of assistance to the bowlers. Even Murali found it tough, with only very little turn which was negated by the lack of bounce.We had not given up on the game even well in to the last day because we knew that if we could get a few breakthroughs as we did in the first test, we had a chance of running through England's tail, but the rains came down and shut out that possibility.
We did miss Sanath's services as a bowler, though. Going into a game with three seamers and a spinner on a flat wicket with no fifth bowler to carry the load was probably not the best option to pursue and we learnt that the hard way.
Now, it is down to Galle for the third test beginning Tuesday. The bad news is that Dilhara is out with an ankle injury which needs surgery that will put him out of action for about six months. He has been carrying the injury for some time but now it needs surgery.
This is a common problem for fast bowlers and I too had similar surgery done on me in South Africa. It is tough on Dilhara because he will miss the triangular in Australia early next year, but he has realised he cannot carry on without surgery for long. The good news is that Dilshan has been recalled. His presence in the team would be invaluable because he adds a spin bowling option which we lacked in the second test in Sanath's absence. As for the composition of the attack, we may go in with two seamers and two spinners or three seamers and a spinner depending on our reading of the wicket.
It must be remembered however that this is not the Galle wicket which had been a happy hunting ground for us in the past. The ground has been rebuilt after the tsunami disaster three years ago and the wicket has been re-laid. Therefore it is an unknown quantity and we cannot rely on past records to guide us as to how the wicket there will play.
The conditions will still favour Sri Lanka because we are the home team but the same cannot be said about crowd support. At the Colombo test, we felt as if we were playing at Lords or Old Trafford because their 'Barmy Army' was barracking for the Englishmen vociferously while there were very few Sri Lankan spectators on the ground. Hopefully, it will be different in the cricket loving southern city.
We have had a day off and another half day of practices before we arrived at the Lighthouse Hotel for the Galle game. Obviously, we will be playing to win and it would be good to end the series with a two-nil margin. That would be our focus because it could also be the ideal platform to set the stage for the tour to Australia early next year.