Swann - will he play in the third Test?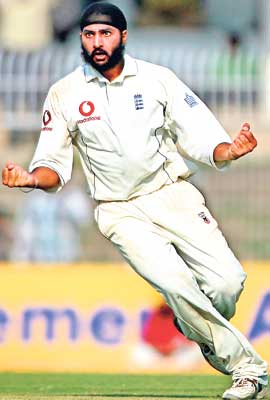 At present Panesar is fighting a lone battle on Sri Lankan wickets
England keep the series against Sri Lanka alive and comfortably in the end with the drawn match in Colombo. In fact, only the dreadful pitch was the winner.
It is not to be encouraged in world cricket and I have a little bee in my bonnet about the surfaces we are seeing in Sri Lanka at the moment.
They were poor for the one-day series when we saw scores of around 200 rather than 300 in 50-over cricket and the pitches we have seen in the first two Tests, particularly the one in Colombo, aren't really what I want to see in Test match cricket; ones that produce a fair contest between bat and ball.
They are too flat, too slow and this one didn't really offer anything to any bowler but then nor was there enough pace in it to give any batsman with enterprise the chance to score quickly.
That's why we were dished up runs at around three an over rather than the three and a half or four an over we have come to love from the Australians. If batsmen can put runs up on the board more quickly then the bowlers can set more attacking fields and both are given a chance of forcing a result that was never really likely in this Test.
I was also distressed to see the poor turnout from the local Sri Lanka cricket fans. It is a real problem in the sub-continent that the public has been totally sucked in by one-day cricket and don't want to see the leading form of the game, Test match cricket. I find that a great shame but you can hardly blame them for avoiding some of this Test.
Regardless of the pitch that England will find in Galle, they need to find a way of taking 20 wickets if they are avoid defeat in the series. Unfortunately they don't look particularly adept at doing that in these conditions. They don't possess in their squad a wrist spinner or unorthodox finger spinner, the types of bowlers that can make a difference on benign pitches.
You could probably only name Daniel Vettori and Monty Panesar as orthodox spinners that have enjoyed some success in Test cricket in recent years but that success has been limited in comparison to the likes of Shane Warne, Murali, Anil Kumble and, to a lesser degree, Harbhajan Singh.
As well as missing an unorthodox spinner, England don't have a lightning quick bowler either, a la Waqar Younis or Wasim Akram, who can reverse the ball at 90mph, another way of snaring wickets on dead pitches.
It would be a bold move by England to play an extra bowler in an attempt to take all 20 wickets in Galle, in a match they have to win if they have designs on leaving Sri Lanka undefeated in the series. But that is only one of two ways of looking at this Test.
Having blooded Ravi Bopara and Stuart Broad in this series then there is an argument that England should stick with them to give them a better chance of being the finished article when Australia come to England to defend the Ashes in 2009. They are also likely to fare better in New Zealand after Christmas where seam and swing bowling are often better rewarded.
The flip side of the dilemma for the England management is to pick the team most likely to win the Test in Galle. If they want to gamble, they leave out Bopara for Graeme Swann, exchanging a batsman for an extra bowler, but how much more effective is Swann going to be than a combination of Kevin Pietersen and Michael Vaughan?
I am not too sure but I don't see Swann bowling out a side or taking five wickets in an innings, so there is some thinking to do before the third Test begins on Tuesday.
Another problem for England is that the batters are making 50 but not 100, 150 or even 200. They are all playing well but none of them are converting the big scores that would give Panesar the freedom to come around the wicket, bowl with more flight and variation and to set fields that will put more pressure on the batsmen.
The batsmen may have failed to cash in but England's bowlers stuck to their task well in Colombo and, aside from the last session, the team fielded well too. They will need to get all three facets of the game spot on in the last Test, regardless of selection, if they are to stand a chance of levelling the series.
Mahela Jayawardene's conservative attitude in Colombo leaves me with the impression that he would settle for a 1-0 win in this series - something that disappointed me - but we don't know what we are going to get yet in Galle and England still have a chance making him and Sri Lanka pay.
Bob Willis
Cricket365