A PITCH TOO EASY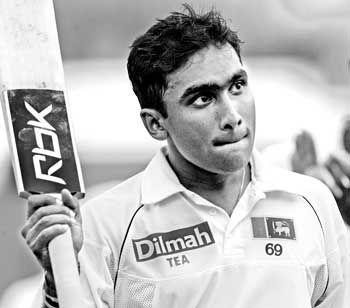 Mahela knew how to bat on his home ground.
No question about it, England and Sri Lanka are producing absorbing test cricket. Both at Asgiriya and at the S.S.C. the games were contested keenly. Sri Lanka have an advantage in knowing the home conditions like the back of their palms. They also have in their ranks Mahela Jayawardena, Kumar Sangakkara and Muttiah Muralitharan who are amongst the best in the world.
Whoever the players are, in the end, a result or a draw, with a result in sight, is what is required after five days of cricket. That was not the case at S.S.C., in the second game. Maybe, another two days at least was required to produce a result!
It was evident from day one that the bowlers would have to toil. England won the toss and elected to bat. Normally the ball does seam around in the first session on this pitch and perhaps for most part of the next two sessions too. Then there is always a bit of juice for about three quarters of an hours on the following days, particularly if there should be a half hour early start. None of that happened.
The day produced 87 overs before bad light sent the players back to the dressing rooms and during that time England totalled 257 runs and lost five batsmen. Indeed it is slow going for a day's test cricket. Captain Michael Vaughan and his opening partner Alistair Cook, both got in and got out in the eighties but could not go on to reach the three figure mark. That stunted England's progress to reach a formidable first innings total.
Another haul
Day two was the day when most number of wickets fell. It was mainly because the England tail could not read Muralitharan. It was another five wicket haul for the off spinner and he has now done it a staggering sixty two times. England's wicket keeper Mat Prior continued his good form, hitting a valuable seventy nine runs and attempting to force the pace, was the last man out.
The Englishmen battled for 126.2 overs, to accumulate 351 runs which again is slow going. There was some entertainment as Ryan Sidebottom bowled a lethal first spell and accounted for the scalps of Upul Tharanga and Sri Lanka's best, Kumar Sangakkara. It was a challenge for Michael Vandort and skipper Mahela Jayawardena. They finished the day unseparated, taking the team to a score of one hundred and five.
Batsmen thrived on day three. The overnight pair of Jayawardena and Van Dort were solid as ever and went on and on. It was classic test match batting. Vandort was the first to get to a hundred and was finally out for 138. The second new ball caused his undoing as he walked too far across his stumps and was lbw to Sidebottom. England had one more success, right at the end of the day when Chamara Silva failed to keep a rising delivery down, failing to reach a half century by just one run.
Opportunity
Sri Lanka leading by twenty eight runs and six wickets standing went into day four with an opportunity to get the upper hand. They needed Jayawardena to add many more to his overnight 167 and do it fairly quickly too. Contributions were required from Jehan Mubarak, Prasanna Jayawardena and Chaminda Vaas. Midway through the opening session the home team had lost their way somewhat, with Mubarak and Jayawardena both back in the hut. Like Sangakkara in the previous test Jayawardena provided a masterclass on how to bat on Sri Lankan test pitches. All the ingredients from defence to shot making were on display.
Wicket keeper Prasanna Jayawardena came up with another solid batting performance. In both test matches his wicket keeping was outstanding and now another half century. Dilhara Fernando contributed his highest score in test cricket, an unbeaten 36 runs. However, the objective of acquiring about a 200 run lead and getting their fairly quickly could not be achieved. They batted a huge 186.5 over and England chewed up two balls and had used the third for another 27 when the declaration came.
The England openers negotiated the seventeen overs they faced plans was stopped early on day four, calling for an early start on the final day. There was little or no hope of England winning the match in the remaining ninety eight overs. Sri Lanka did have a slim opportunity had they been able to dismiss the visitors in about five hours.
Michael Vaughan and Alistair Cook destroyed that opportunity with another century partnership. They both scored half centuries and Ian Bell who came at number three also did the same. That is an area that England have to work on --- to convert half centuries to centuries. Three Sri Lankan batsmen have done it opposed to no Englishmen.
In the end rain robbed a session of play. It had no significance on the game which by then was heading for a draw. Only twenty two wickets were captured by the bowlers of both teams while delivering 390.1 overs. The total run rate was 2.95 runs per over, with England's 3.25 in the second innings being the best in the four innings. The final assessment was that the pitch was too easy to get a result in five days.