'Living up to the name' and other intricacies
Just one minute – try to decipher the surname Jayawardena. If one takes a direct translation, it may read as --setting up a win and improving on it.
From the time the incumbent Lankan skipper Mahela Jayawardena sat majestically upon the cricketing throne one may say that he has lived up to his name. As one of the most talented cricketers who took to willow-wielding as his vocation and he has really put a new meaning to the idiom 'living up to the name'.
However in narration we do not intend to dwell upon the Lankan conquests of Mahela Jayawardena, but, to discuss another Jayawardena who had to work that bit more to establish himself, take control and put himself in as an integral part of the future development plan of the game of cricket in Sri Lanka. In short, talk about a man who has delivered more than what is expected of him in a much unsung manner. He is none other than the present Lankan wicket-keeper Prasanna Jayawardena.
Over shadowed
Through the last twenty-five years of Test cricket in Sri Lanka we have had many a talented young cricketer coming in and knocking at the door, but, soon getting pushed into oblivion as they are over shadowed by legendary peers whom they know that they cannot knock over, nor the established system in this country will let that happen in a hurry. But on hindsight we wonder if these youngsters do push the establish system hard enough for the latter to rethink and make provisions for their accommodation.
First it was Kumar Sangakkara who broke into the scene knocking out the more established Romesh Kaluwitharana with a string of good batting performances. But, at that time Sangakkara may not have been the hottest wicket-keeper that Sri Lanka ever created, but his batting alone forced the system to take a change of thought. However being Sangakkara as he is, he put so much emphasis on to that vocation behind the wickets he improved by the day. But, his act as a wicket-keeper No.3 bat was always a problem to the system and the latter part of his duties became more imminent to the system and he had to be rescued before he became a victim of player-burnout.
Not required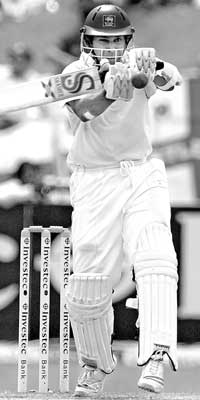 Prasanna Jayawardena is fast developing into more than an asset.
Prasanna Jayawardena made his Test debut for Sri Lanka against Pakistan in Kandy, in June, 2000, in a match that the Lankans did well to score over four hundreds runs in a rain affected match. He was not required to bat in that match. But, at that stage his batting abilities were a concern to the system and thus he was always a second choice. Undaunted by the status quo, Jayawardena believing in his own batting abilities transformed himself into a consistent run maker with the Lankan second string. The new situation prompted the system to give Prasanna Jayawardena another try behind the wickets in the senior side. This time Jayawardena 'living up to the name' took the opportunity with both hands and batted with such a lot of assurance now certain quarters are asking whether he is the late middle order batsman that Sri Lanka has found after the departure of Hashan Tillekeratne. Now he is making it a habit to bat on with the tail from a point to yonder. Once he did so with Chaminda Vaas against Bangladesh, then he did the same in the last match along with Dilhara Fernando. Besides when Sri Lanka was looking desperately for some one to bat along with Sangakkara in the first Test, Jayawardena willingly put his hand up and joined the rescue mission that finally saw , Sri Lanka winning the match.
Misfits
Here comes the other question. Are the local selectors doing the right thing by including misfits in the final playing eleven? It was heard when asked an English bowler on what plans they had on the Lankan batting order he promptly answered if they could get a breakthrough and expose the middle order there were easy pickings and once they overcome those they can put on the pressure. The prediction did not work as he said, but, the two wickets he mentioned did surrender without a fight.
We once again question the selectors for the wisdom of playing Jehan Mubarak as a specialist batsman when he yields an average of only 16.33 in nine innings. This is also without a single Test half century in his career so far.
The selectors have conveniently forgotten T.M. Dilshan (who also can bowl) who is now batting well in the domestic tournament and a batsman who has a Test average of over 37 runs per innings. At the same time Thilan Samaraweera another batsman with an average of over 40 runs and a person who broke into the scene as a specialist off spinner has been unceremoniously dumped all with the intention of giving Mubarak an extended run.
In another development our Champion off spinner has complained that the local wickets are now too bland and bowling on them is heartbreaking.
He wished that there was another spinner who could plug on to the other end. While looking out for a win with over a hundred run lead in the pocket, the fifth day SSC pitch was so irritating skipper Mahela Jayawardena had to bring himself on and then turn to part time leg spinner Chamara Silva when specialist spinner Malinga Bandara was hibernating in the pavilion.
Something is wrong somewhere. Are they so inefficient to get things wrong at every attempt?
P.S: It looks like sanity has prevailed.