Sirisoma infuses new life to Billiards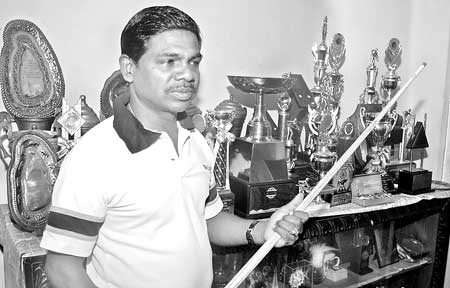 The billiards maestro Sirisoma with his trophies. Pix by Ranjith Perera
The first world cup title was brought to Sri Lanka in the sports arena through the game of billiards when the late maestro M.J.M.Lafir won the Billiards World Championship in Colombo 1973. The game in this little island was at its peak during this period and when Lafir was giving the international players a run for their money, another player who was just learning his basics at that time was K.H. Sirisoma who was then in his early 20's.
He learnt his basics at Jayantha Sports Club in Kochikade in 1978 and one year later he began participating in minor tournaments and then went a step further by taking part in the Colombo district championship which was the qualifying tournament to book a berth to the All Island Lanka Plate championship. From there he elevated to the national billiards championship. For these tournaments he represented the Cine Club in Borella.
His involvement in the game is now almost reaching the three decade mark and his crowning glory came on December 8th 2007 when he created a Sri Lanka record when he defeated S.H.M. Aslam of MSC by six frames to two in the billiards final to take his 17th national billiards title eclipsing the record of 16 national titles held by maestro Lafir. This is not going to be an easy task for any other cueist to beat in the near future.
He has even won the national snooker title on one occasion. It is a rare occurrence for a sportsman to dabble in a sport for 25 years and win the major titles in both forms of the game. First and foremost his winning the Colombo District and All Island Lanka Plate in 1979 on his major debut tournament was a unique one. He recalled "I have not heard or seen in my 27 years in the sport of anyone achieving this feat". Two years later in 1981 having moved into the top league he ended up as runner up at the national billiards championship losing to S.M. Shaharwardi. Then for two years he had to keep off due to personal commitments.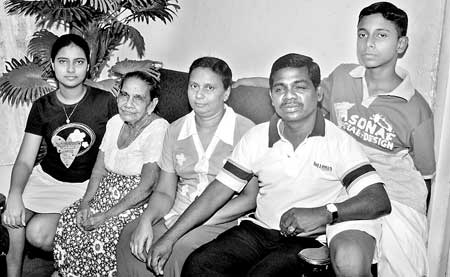 Sirisoma with his family
In 1983 he made his first overseas tour to India to participate in the dual meet between Sri Lanka and India. The same year he joined the Sri Lanka Ports Authority which in fact enabled him to pursue his billiards career in a big way as he received the fullest support from the then chairman of the SLPA, the late Wimal Amarasekera and since then he has represented SLPA in all the tournaments to date.
His two years lay off made him start billiards all over again but had no difficulty in winning the All Island Lanka Plate. His first national title came in the form of snooker in 1984. The feat presented him with an opportunity to travel to Ireland to represent Sri Lanka at the World Snooker Championship. With his first love being billiards he achieved his goal when he won the national billiards title a year later.
From there on he has been successful in appearing in 21 billiards finals ending up as runner-up on four occasions and winning it a record 17 times in 1985, 1987, 1989, 1990, 1992 to 1998, 2000, 2003, 2005, 2006 and 2007. During this period he finished as runner-up in the snooker nationals twice.
In the international arena Sirisoma has had the opportunity in representing Sri Lanka on many tours. The game of billiards has taken him to India eight times (1983, 85, 86, 87, 89, 96 and 2003) and twice to Ireland (1984 and 2000). He also had the honour or representing his country on tours to England, Malaysia, Bangladesh, Thailand, Australia, Malta and Korea and two months ago he represented Sri Lanka at the Indoor Games held in Macau where he succeeded in advancing to the quarter-finals.
Earlier he reached the quarter-final at the Asian Snooker Championship held in 1986 and 1987 in Sri Lanka and Malaysia. He finished as second runner-up at the President's Cup held in Bangladesh and has participated in seven World Billiards Championships the last being in 2003 at Hyderabad, India. He recorded his best achievement when he qualified to the quarter-finals of the Walter Lindrum Centenary World Championship held in Australia in 1998 losing to the ultimate winner and then reached the last 16 of the World Billiards Championship in Ireland in 2000.
Sirisoma spoke with pride of having beaten Michael Ferreira of India who was the world billiards champion in 1977, 81 and 83 in 1996 at the World Professional and Amateur Billiards Championships held in Orissa, India. For all the achievements Sirisoma has Jagath Sumathipala at the top of his list for having given him all the backing and support.
He said if not for Jagath Sumathipala the game would have died a natural death, he encouraged the other presidents that took over the game. In the recent past the game was again going down when Dr. Pani Somaratna took over as the president of the BSAS in 2005. The game of Billiards also saw a major change after the present president Mervyn Jayasinghe gave the headquarters a professional look with the basic needs for an association.
He is grateful to ardent billiards supporters Patrick Oliver, P.J.M. Ameen and T. Jayakody who had been with him right through his career. "If not for them I would not have been able to go so far". He says. Sirisoma is at present happily married residing at the Ports Authority quarters at Bloemandal Road with his wife Chandrika and two children.