Rekindling a yearning for architecture of yore
Barbara Sansoni's fascination with buildings had begun in her childhood through high ceiling, wide veranda residencies which were occupied by her father as Government Agent in Batticaloa, Kurunegala, Matale and so on.
Her love affair with architecture crystallized in the early 60s. Unable to save the many beautiful buildings that were being knocked down or being remodelled in the name of progress Barbara Sansoni decided she would own these by recording them. Her drawings initially appeared in a weekly series called "Collecting Old Buildings" in the Ceylon Daily Mirror in 1962 and 1963.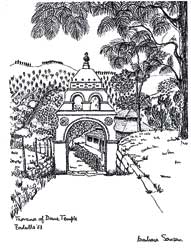 VIHARES & VERANDAS by Barbara Sansoni, originally published in 1978, now reprinted (in a limited edition of 500 copies)
In this early endeavour she was joined by Ulrik Plesner (who was a partner of Geoffrey Bawa at Edwards Reid and Begg) who wrote the accompanying texts. Furthermore Plesner assisted by Laki Senanayake and Ismeth Raheem proceeded to measure and record seven such notable buildings. Of these the Walawwe at Gintota and the Slave Island Barracks are no longer in existence.
Furthermore, the splendid image house at Padeniya Vihare is no longer seen as intended with the roof floating on the head of a lion frieze and reflected in the pond below, as observed by Barbara Sansoni, as this image house has been modernized and ruined by the insensitive placing of obtrusive columns in the exterior and numerous 'cloud walls' in the exterior.
In the 30 years that followed these seven measured drawings have reached a 100 with the scholarly companionship of Prof. Ronald Lewcock whom she first met in 1969, and later married in 1981. It would not be an exaggeration to suggest that the open house of Mrs. Sansoni during this period often formed the centre of fun and creative dialogue with the participation of some of the most talented students who have helped at various times with this massive compilation.
A lavish hand printed portfolio of her drawings were made available as "Vihares & Verandas" in 1978. This magnum opus was eventually published as "Architecture of an Island" in 1998. These documents shows in comprehensive detail our rich vernacular building traditions, though many of them are fast disappearing as has nearly a third of her documentation. " Vihares & Verandas" has been reprinted in a limited edition of 500 copies and available at the Barefoot Bookshop.
To say that these drawings show a wealth of architectural detail and legacy would be an understatement. These drawings also show an understanding of drawing for publication where the clarity of each line must be respected. For in reproduction thin lines tend to disappear, while lines too close to each other merge. Furthermore these architectural drawings in their setting were perhaps, inspired by the art of the Australian artist Donald Friend who was living in Geoffrey Bawa's brother Bevis's garden at Brief in Aluthgama at that time. Through Laki and Ismeth who had helped with the measured drawings and were working for Geoffrey Bawa, these renderings, no doubt helped to create the Bawa style of drawing buildings in their natural environment, which has had such a wide impact in South Asia.
For all those genuinely interested in the culture of architecture, rather than fleeting 'styles' of interiors which are much in vogue today, and for those who were too young to buy it when it was published nearly 28 years ago, it is a strongly recommended gift in this festive season.