Cheers Arthur of Serendip!
~ Space wizard reaches another milestone as he turns 90 today
Sri Lanka would not be celebrating the 90th birthday of Sir Arthur C. Clarke today, December 16, or anticipating the impending visit of American author Gore Vidal as a participant in the Galle Literary Festival in January, if not for a stroke of good luck concerning the back axle and differential of a CTB bus.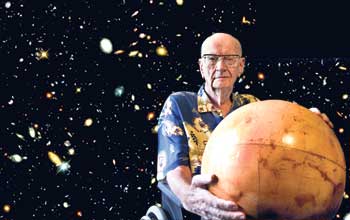 Arthur at home: A recent portrait by Shahidul Alam/ Drik/ Majority World
Over the years, many famous authors, scientists, film-makers and personalities of every description have been drawn to Sri Lanka in order to visit Arthur. In January 1970, for instance, Gore Vidal arrived. Arthur took the celebrated writer on a trip to Unawatuna.
During this journey a terrible disaster nearly occurred, due to an experience that will appear entirely plausible to anyone who frequents Sri Lanka's highways.
"We were driving down the main road going south, and there was a Ceylon Transport Board bus in front of us," wrote Arthur. "Suddenly the entire back axle and differential came out and started cartwheeling down the road towards us, like a drum majorette's baton.
And it came to rest only a few feet ahead of the car. An extraordinary thing. Luckily no one got hurt." Later, Arthur jokingly admitted, "As a hundred kilograms of metal bounced closer and closer, I unselfishly prayed that the world of letters would not sustain a major loss."
60th Birthday
Almost exactly 30 years ago today I set out from Colombo with Swami Siva Kalki (Mike Wilson) on a journey to Kandy to write a science-fiction film script. As I drove down Kynsey Road, Swami Siva Kalki suddenly shouted, "Quick! Turn down Barnes Place!" We careened into the said road, narrowly missing an assortment of humanity.
"It's Arthur's 60th birthday in a couple of days! We must wish him all the best before we go to Kandy!" Swami Siva Kalki said to me by way of explanation. "Besides," he continued, oblivious to my protestations about split-second decisions, "we should get his blessings for our project."
As I parked the car outside Arthur's house I wondered whether he would have sufficient mental space to show any interest in our project. But then I consoled myself with the thought that Swami Siva Kalki had known Arthur for a quarter of a century and that for a fair portion of those years he had been Arthur's close friend and occasional creative assistant. Arthur greeted us in his study with a meaningful grin. It was that type of grin, a mixture of relief, ecstasy, triumph and sheer satisfaction - which tells you, when it adorns the face of a writer, that he or she has finished a major work and is now experiencing post-delivery euphoria. "Your arrival couldn't be better timed," he informed us, "because today I have finished the first draft of my new novel, Fountains of Paradise."
Before Swami Siva Kalki or I could react to the good news of the completion of the Taprobane-based Fountains of Paradise, Arthur's euphoria seemed to ebb, and he announced in a more sombre tone, "I have to tell you that it's going to be my last book - positively the last!" I remember sitting there feeling stunned, unable to comprehend a world without any new works of science-fiction by one of the great masters of the genre. Of course my dismay turned out to be unnecessary. Peruse any Arthur C. Clarke internet bibliography and note the post-Fountains of Paradise work. This retirement reference was one of Arthur's less accurate predictions.
Extrapolations
However, let me demonstrate how accurate Clarke can be. Do you remember the state of communications in Colombo during the early 1970s? It was a place where obtaining a photocopy was a major endeavour, where making an overseas telephone call involved bookings, and where, of course, there was no television. The facsimile, the mobile phone, satellite television transmission and the Internet are just a few of the manifestation of the communications revolution that would have been hard to conceive of by the average person back then. Colombo was hardly at the cutting edge. Yet over in Barnes Place there was a person who was able to predict all these innovations and more (although he prefers to call the process "extrapolation").
In an article of the period he lists a few of the services which he thought would be available by 2001 - not in the office or factory, but in every home:
"Direct TV reception, via satellite, from all major countries. . ."
"Telephone calls between all locations and even moving individuals everywhere on earth . . ."
"Facsimile services whereby letters, printed matter, etc., can be reproduced instantly . . ."
"Immediate access via simple computer-type keyboards, and TV displays, to all the world's great libraries and information centres. Any items needed for permanent reference could be printed off or filed magnetically."
Lanka Saga
Arthur's Lanka saga commenced in November 1954, when, at the age of 36, he set sail from London to Australia. The objective was to join up with Mike Wilson on an expedition to the Great Barrier Reef. In December, the ship docked for half a day at Colombo. This gave Arthur the chance to see a little of the city in the company of two people - friends of friends.
One was Major Roland Raven-Hart OBE, canoeist and culturist, who was resident in Ceylon during the 1950s and 1960s. Arthur rates him as one of the most unforgettable characters he has ever met, a fusion of Arthur Conan Doyle's Professor Summerlee and the traveller, Sir Richard Burton.
The second was Rodney Jonklaas - another remarkable character in his own right. Jonklaas, who was then Assistant Director of the Dehiwala Zoo, suggested Arthur should return to explore the seas of Ceylon once he had finished with the Great Barrier Reef. Making no promises, Arthur sailed away from his fateful first encounter with the island.
Arthur arrived in Melbourne and teamed up with Mike Wilson, who had already spent some months diving for pearls and working as a film extra. After various adventures above and below water, a number of articles with Mike, and at least one book, The Coast of Coral, Ceylon beckoned.
They arrived at Colombo in January 1956. Rodney Jonklaas was there to meet them and help them settle in. They stayed initially at the Grand Oriental Hotel but then moved to a flat at Indra Lane, Bambalapitiya. Soon after their arrival, Arthur and Mike headed south with Rodney to commence diving operations. First stop was Akurala Reef where they investigated the wrecks of the Conch and the Earl of Shaftesbury. They then moved on to Weligama and Tangalle. It was the start of a pioneering period in the short history of the island's underwater exploration. In the space of a few years, the three of them researched, located and explored dozens of wrecks, many of historical significance. In contrast, they also dived on the Aeonos - just five days after it sank in March 1956.
These early explorations culminated in 1961 with Mike's discovery of a wreck of unknown origin on the Great Basses Reef containing several cannon and thousands of silver Moghul rupees, all dated 1702. Following discussions with the BBC, Mike was contracted to make a documentary on a fresh exploration of the wreck mounted in 1963. The film was called Treasure of the Great Reef. The narration was by Arthur, who also wrote a book of the same name on the subject, published in 1964.
This book is Arthur's only work of nonfiction concerned exclusively with Sri Lanka. Apart from being an account of the expedition, the book has a host of excellent photographs by Arthur, Mike and Rodney. Another nonfiction work The View from Serendip (1978), contains fragments of what the publishers call an Equatorial Autobiography. In chapters such as "Concerning Serendipity" "Servant Problems Oriental Style" and "The Scent of Treasure", Arthur describes his early years in the island.
Impressions
Although Sri Lanka does not impinge much on his prolific best-selling fiction and non-fiction, Arthur has nevertheless written some notable and quotable pieces extolling the island's virtues. Possibly the best piece of this nature he wrote for Roloff Beny's Island Ceylon (1970), that perennial coffee-table book about the country.
"It may well be that each of Ceylon's attractions is surpassed somewhere on Earth," Arthur writes in the epilogue. "Cambodia may have more impressive ruins, Tahiti lovelier beaches, Bali more beautiful landscapes (though I doubt it), Thailand more charming people (ditto). But I find it hard to believe that there is any country which scores so highly in all departments - which has so many advantages, and so few disadvantages, especially for the western visitor."
A similar passage I have always liked, which was written for British Airways, makes the important point that the island is a veritable microcosm:
"The Island of Ceylon is a small universe; it contains as many variations of culture, scenery, and climate as some countries a dozen times its size. What you get from it depends on what you bring; if you never stray from your hotel bar or the dusty streets of Westernized Colombo, you could perish of fulminating boredom in a week, and it would serve you right. But if you are interested in people, history, nature and art - all the things that really matter - you may find, as I have, that a lifetime is not enough."
Then there is the passage from The Treasure of the Great Reef, which reads:"And always it is the same; the slender palm trees leaning over the white sand, the warm sun sparkling on the waves as they break on the inshore reef, the outrigger fishing boats drawn up high on the beach. This alone is real; the rest is but a dream from which I shall presently awake."
Of course events of the past two decades have meant that Arthur has had to contend with something of a Lost Paradise (see his piece on Nihal Fernando's A Personal Odyssey), where his "slender palm trees" have been bulldozed to make way for yet another shoddy hotel; where his "beautiful landscapes" have become scarred by development and erosion; where his "charming people" have become brutalized and stunted by incessant conflict and violence.
Another book, a selection of his essays titled Greetings, Carbon-Based Bipeds!, has a dedication that confronts the prevailing realities of Sri Lanka. It reads: "To Vice Chancellor Professor C. Patuwathavitane, killed while serving his students, and to the children of Sri Lanka's lost generation, remembered only by those who loved them. 'Good or bad, guilty or innocent - they are all equal now.'
One does not spend 51 years in an adopted country without becoming inextricably wound up in its fate, and Arthur is no exception. Over the passage of time he has shown consistent concern for the future direction, well-being and prosperity of Sri Lanka. Whether it be his pioneering underwater explorations, his eloquent writings, his magnificent contribution to the Arthur C. Clarke Centre for Modern Technologies, or even his occasional newspaper correspondence on subjects as diverse as daylight saving and Paranavitana's interlinear inscriptions, Arthur has shown an unwavering commitment to his beloved tropical island. He is, without doubt, Arthur of Serendip.
Many happy returns, Arthur of Serendip! Congratulations on completing 90 orbits around the sun!