They live in houses that go with the wind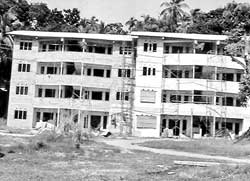 .
Despite the multi-billion rupee rehabilitation and reconstruction programmes which got underway after the tsunami struck most parts of the coastal areas in the country, three years on some of these families are still without a permanent house. As many as 22 families living in Kesbepana and Yaddehimulla of Unawatuna have been living in temporary shelters and authorities have failed look into the grievances despite appeals for a permanent house each for these families.
They were expecting housing facilities in the four storeyed complex comprising 24 units and another 35 houses which were coming up in Kesbepana, but construction which started two years back has now been abandoned. The State Development and Construction Corporation undertook the construction of the buildings with the assistance of the Urban Development Authority (UDA) and the Foreign Ministry. This has been abandoned, dashing the hopes of the villagers.
M.Lilani who lives in a temporary house told The Sunday Times that they were caught in the tsunami in the Peelagoda area of Unawatuna. Her house was destroyed and she was provided with a temporary home."Now the house is collapsing as it was built only for a short period of occupation. The zink sheets in the roofing are corroding. During a recent heavy wind the roof was blown off," she said.
Another resident, H.M.Malini said in some instances not only families affected by the tsunami but even their extended families have been provided with houses while some affected families have been provided two to three houses. "At least if the government could provide us with a half built house it would be better than living in a house about to collapse," she said.