Britain stands by what Chilcott said
The British High Commission yesterday defended its envoy Dominick Chilcott's controversial statement made earlier this week, as the envoy was set to take a new posting in Washington next month."The High Commission is standing by the statement. It is not a personal comment," spokesman John Culley told the Sunday Times.
Delivering the Dudley Senanayake memorial speech on December 10, Mr. Chilcott made several comments and among them "I am not saying that the political aspiration for Eelam is illegitimate" created disagreement in Parliament. On Thursday in Parliament, Foreign Minister Rohitha Bogollagama said the government's displeasure over the statement made by British High Commissioner would be conveyed to the British Foreign Office.However, there is no indication that this has been done.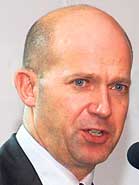 The British High Commission Mr. Dominick Chilcott
Mr. Chilcott will be taking up duties as the Deputy Ambassador at the British embassy in Washington early next month. Mr. Culley told the Sunday Times the decision to move Mr. Chilcott to Washington was taken six weeks before he delivered the Dudley Senanayake lecture in Colombo.
"He has received a promotion," Mr. Culley said.Mr. Chilcott assumed duties as High Commissioner in Colombo in April 2006 and has served in that post for the past 20-21 months. Colombo was his first posting as head of mission and also his first in South Asia.
On Thursday, Foreign Ministry Secretary summoned Mr. Chilcott to the ministry where the government expressed deep concern over the comments he made during the lecture. Dr. Kohona said the statement was unacceptable to the Government of Sri Lanka, given the British government's categorical rejection of the creation of a separate state in Sri Lanka.
Additionally, at a time when the painstaking process of evolving a negotiated political settlement was underway, such sentiments would have a negative impact and send confusing signals, the government said in a statement. It also said Mr. Chilcott categorically confirmed that the British government did not support in any way the establishment of a separate State in Sri Lanka. Neither did he personally.
The statement said the British High Commissioner by way of explanation stated that what he meant was that political aspirations could be expressed through legitimate methods, just as much as the aspiration for independence for Yorkshire.