Ban on nut exports affects industry
The Government's sudden decision to stop the export of coconuts, without any proper evaluation of the situation has affected the coconut industry, the workers and thousands of people dependent on it. Among the most affected are over 2500 workers from Kadayamotte in the Puttalam district, an area situated along the coconut belt, which was regarded as one of the largest coconut exporters of the country.
The workers left unemployed for over a month staged a protest on December 12 in Madurankuli calling on the Government to address their needs."I used to earn Rs. 3000 – Rs. 3500 per week by husking coconuts which was adequate to meet the needs of my family," said Ajith Piyal who now has no means of earning an income to support his family. Another affected worker, Sunil Premaratne whose family depends solely on his income as his wife is dead, said he had no way of feeding his six children.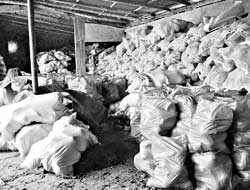 Bagged coconuts at a store awaiting export
"For nearly a month now I have not had a job and I had to borrow money from the shopkeeper to pay for our daily expenses. However we cannot borrow money for long. I don't want to keep my children hungry and I have no idea what I can do," he said. P.A. Neville Gunesekera said that he had been working in the industry for nearly 15 years and now being unemployed, he was in dire straits.
The locations around Kadayamotte once filled with hundreds of men busy at work are now deserted. Around 700,000 coconuts ready to be exported were seen put into bags and left in the stores, while over 200,00 raw husks of coconuts were left to dry. Coconut Development Authority Chairman Jayantha Gunetilleke said that coconut exports were a good foreign exchange earner for Sri Lanka and that the Coconut Development Authority had no hand in the decision taken by the Government.
"The export of coconuts was also beneficial to planters who received a healthy income from it. This was a decision of the Government," he said. Mr. Gunetilleke said he was not in a position to make any further comments on the issue. The Government aimed to reduce the escalating price of coconuts in the local market by stopping the export of coconuts.
Currently the local production is 2900 million coconuts but the local demand stands at 3000 -3500 million coconuts, thus creating a shortage of around 500 million nuts. Out of the 2900 million nuts produced, 2000 million is used to meet the local demand, 400 million used to make desiccated coconut, while 50 million coconuts are exported.
Local demand could not be met sufficiently due to the decrease in coconut crop in the Gampaha, Kurunegala and Puttalam districts. Officials have said the increase in coconut prices locally was not affected by the export of coconuts. The maximum price of a coconut sold to the local markets is around Rs. 25 to Rs. 26. However the traders sell it at a higher price to customers keeping a profit for themselves.