2 homes for a monument but none for Ranjith
A monument built to remember those who perished in one of the most terrifying incidents of the tsunami, the Pereliya train tragedy, has run into a storm. In 2004 Ranjith Prasanna Weerasekara and his family narrowly escaped the devastating tsunami but their house was destroyed. His 75 perch land was located just opposite where the tragedy occurred.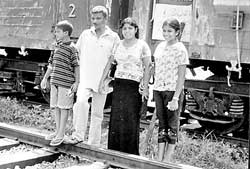 Ranjith and his family
Three months after the tsunami struck Ranjith returned to his plot of land only to see a destroyed house and to be told that 1,519 people including 1,270 who perished in the train tragedy and another 249 who died in the village had been buried in his land. The people of the area had later put up a temporary monument to remember those who died on his plot of land. The government however constructed a monument in 2005 in the adjoining plot of land.
Ranjith's wife Nirosha says originally the authorities had sought their permission to build a monument on their plot of and they had said they would agree if they were given a permanent house. But instead the authorities had built the monument in the adjoining plot of land where nobody has been buried. However, Nirosha says villagers who are aware of this continue to come to their plot of land to pay respect to their loved ones. With no compensation given or a house to live in Ranjith and his family have been forced to rent out a house for Rs. 3,000.