Bridging ties between North/East and South through tsunami housing
Sri Lanka Caritas, the social arm of the Catholic National Commission for Justice, Peace and Human Development last week held its national third year tsunami commemoration event at Koneshapuri, a new settlement along the Trincomalee-Pulmoddai highway for tsunami victims.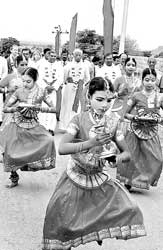 The Bishops being led to the housing complex
Koneshapuri has been selected due to its elevation. More than 500 permanent houses are being constructed at the site by several NGOs. Seventy eight completed houses were handed over to the beneficiaries at the commemoration event."We selected Trincomalee as the venue for the national level third year tsunami commemoration event to express the solidarity of the people of the south with the people of the North and East who have been suffering due to the breakdown of the peace process and also by the tsunami that struck the country three years ago," said Rt.Rev.Dr.Harold Anthony Perera, Bishop of Galle Diocese and the Chairman of the Catholic National Commission for Justice, Peace and Human Development addressing the gathering at the occasion as the chief guest. He unveiled the tsunami commemoration monument at the commencement of the event.
Others who participated included Bishops Vincent Fernando of Badulla, Norbert Andradi of Anuradhapura and Kingsley Swampillai of Trincomalee-Batticaloa, Rev.Fr Damien Fernando, National Director of Caritas-Sri Lanka and representatives of Caritas Switzerland and Belgium. A.Nadarajah, Additional Government Agent of the Trincomalee district also attended the event.
"The Sri Lanka Catholic Church has been committed to peace in the island. It has taken steps to find the root cause of the conflict. A task force has been appointed by the Bishops' Conference to take initiative in this regard. Rt.Rev. Rayappu Joseph, Rt.Rev.Thomas Soundaranayagam and Rt.Rev.Norbert Andradi, Bishops of Mannar, Jaffna, Anuradhapura and myself have been members of the task force that has been conducting talks with the political leaders and others in detail", Rt.Rev.Harold Anthony Perera said. Rev.Fr.F.X.Dias, Director of the Trincomalee EHED Caritas made the welcome speech.