Bamboo PC is eco-friendly and looks nice, too
SAN FRANCISCO (Reuters) - Back in 1976, Steve Jobs and Steve Wozniak built the Apple I, an early personal computer that consisted of a circuit board in a simple wooden box. Apple Inc (AAPL.O) and other computer makers went on to make advanced PCs in metal and plastic casings, but now Taiwan's Asustek Computer Inc (2357.TW) is finding potential beauty -- and sales -- in an eco-friendly notebook PC encased in another natural material: bamboo.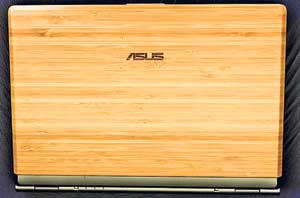 Asus Eco Book made partly from bamboo
The Asus Eco Book, as it's dubbed, has a case made of laminated bamboo strips available in different shades. Harvesting bamboo, an abundant, flexible, durable and fast-growing grass, is unlikely to harm the environment as processing wood from trees might, Asustek said, although glues and laminates for shaping and fortifying the material sometimes contain toxins.
The product is still in the prototype stage and engineers are checking to see if bamboo is suitable for laptops, which have to endure extreme conditions while allowing heat from microprocessors and monitors to escape.
The Eco book is a new tack for a company that caters to executives and other high-end users with its calf leather-bound notebooks and faux alligator-skin models."Originally we came out with a leather model style-book," said Cher Chronis, director of marketing communication for Asus Computer International, the Taipei-based company's U.S. unit.
"It was very popular," she said. "After that, it was kind of natural for us to experiment with other types of materials, so we decided to go green." Asustek says its leather notebooks have not been criticized by animal-rights activists and that the Eco book is not meant to assuage critics. While just about all big computer makers are taking steps to make technology more environmentally friendly, Asustek is one of the first to unveil a bamboo-encased computer.
Some niche companies geared toward eco-conscious consumers offer bamboo computer mice, keyboards and monitor frames."As part of a portfolio of case choices, it makes sense," said Roger Kay, president of PC market researcher Endpoint Technologies Associates Inc.
"I don't think the computer is going to go over to wooden casing," Kay said. "It's ecological to grow it, but my sense is there's probably more show than substance to the claim of sustainable manufacturing." While plastic casings often contain toxins like polyvinyl chloride, or PVC, the bigger environmental threats come from lead in cathode ray tube monitors.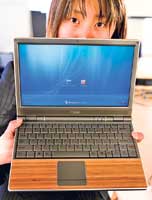 Lee of Taiwan's Asustek Computer Inc. media relations holds an Asus Eco Book made partly from bamboo in San Francisco, California. AP
All major manufacturers, such as Hewlett-Packard Co (HPQ.N), the world's largest PC maker, Dell Inc (DELL.O), the No. 2, Apple as well as Asian rivals Lenovo Group Ltd (0992.HK) and Acer Inc (2353.TW), have programs to reduce energy consumption, recycle components and reduce hazardous materials in computers.
Consumers and businesses are expected to buy about 260 million PCs this year, a 12 percent jump from 2006's level, according to market researcher IDC. Growth is being fueled by surging demand for notebook computers. With so many computers being sold, and an estimated 500 million computers hitting obsolescence in the United States alone in the past 10 years, PC accessory makers are going green, too.
Laptop computer case and accessory maker Targus Inc recently introduced its environmentally-friendly Grove laptop cases, made of recyclable plastics, nickel-free hardware and PVC-free material.
Targus teamed up with the Texas-based computer maker last month to sell its cases on Dell's Web site and will donate a portion of its Dell-sold cases to Dell's "Plant a tree for me" program, which allows consumers to make donations to plant trees to offset the carbon impact of electricity for running their computers.