Musharraf lifts Pakistan's state of emergency after 6 weeks
ISLAMABAD, Saturday (AFP) - President Pervez Musharraf lifted Pakistan's six-week-old state of emergency and restored the constitution today, easing a crackdown that has enraged opponents and worried Western supporters.Information Minister Nisar Memon said Musharraf had signed the order lifting the emergency. He called it a ''historic day'' and said next month's parliamentary elections would cement the country's return to democracy.
''The caretaker government is under oath to hold free, fair, transparent and impartial elections to put the country back on track,'' Memon said. The order also contains a controversial clause that enshrines other orders and provisions that Musharraf imposed under the emergency, saying they ''shall not be called into question by or before any court.''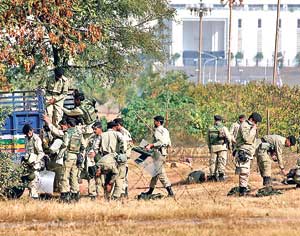 Pakistani paramilitary soldiers load sandbags and other items onto a truck in front of The Presidency in Islamabad yesterday after the lifting of a state of emergency. AFP
Musharraf, who was to make a televised address to the nation later today, still faces criticism at home and abroad that the Jan. 8 ballot will be flawed. The U.S.-backed leader cast Pakistan into turmoil and raised serious doubts over the credibility of the vote, which will determine who will form the country's new government, by imposing emergency rule Nov. 3.
Musharraf's order today required judges to take the oath of office again. He swore in the Supreme Court's chief justice, then sat solemnly as the justice adminstered the oath to the rest of the court. Makhdoom Amin Fahim, senior vice president of former Prime Minister Benazir Bhutto's Pakistan Peoples Party, hailed the end of the emergency.
''It is a good step, but let's see whether the elections are free, fair and transparent,'' Fahim said. He did not rule out cooperation with Musharraf if widespread cheating is avoided. ''But so far, it does not appear that the elections would be held in a fair manner,'' Fahim said. ''All the government machinery is being exploited for foul play.''
Liaquat Baloch, a senior leader of the Muttaheda Majlis-e-Amal, or United Action Forum, called Musharraf's move a ''fraud,'' saying judges dismissed by the president have not been restored and the constitution was altered under the emergency. ''Musharraf had two targets -- getting through the illegal process of his election and purging the judiciary of independent-minded judges -- and he achieved both targets,'' Baloch said.
Musharraf has said he imposed the state of emergency to halt a ''conspiracy'' by top judges to end his eight-year rule and to ward off political chaos that would hobble Pakistan's efforts against Islamic extremism. He has also insisted that the Supreme Curt, which had been poised to rule on the legality of his October re-election, was acting beyond the constitution. But moves he made Friday to tweak the constitution to shore up his legal defenses appeared to confirm the opinion of many legal experts that the president's case had been weak.
The president removed a condition from the charter stating that civil servants had to wait two years after their retirement before running for elected office, Attorney General Malik Mohammed Qayyum told The Associated Press. Musharraf stepped down as army chief only last month.
Qayyum said other changes sealed the retirement of purged Supreme Court judges, including former Chief Justice Iftikhar Mohammed Chaudhry, who either refused or were not invited to sign a fresh oath after the emergency. Their replacements swiftly approved Musharraf's re-election in October by a Parliament stacked with his supporters. Jamaat-e-Islami _ Pakistan's largest Islamic party, which has vowed to boycott the vote _ withdrew its 130 candidates for Parliament and 450 nominations for provincial assemblies in protest against Musharraf's sacking of the judges, spokesman Ameerul Azim said.
''This is a fraud election. We are boycotting unless the judges are restored,'' he said. Qayyum said Musharraf was considering whether to grant an opposition demand for the suspension of mayors to prevent them from influencing the elections, and whether to lift a ban on anyone serving more than twice as prime minister. That could ease his fraught relations with opposition leaders and archrivals Bhutto and Nawaz Sharif.
However, Sen. Raza Rabbani of Bhutto's party said removing the mayors less than four weeks before the elections was ''eyewash'' for the international community.