The Chola King Intervenes
~This article is part of a continuing series on the 'Mahavamsa,' the recorded chronicle of Sri Lankan history~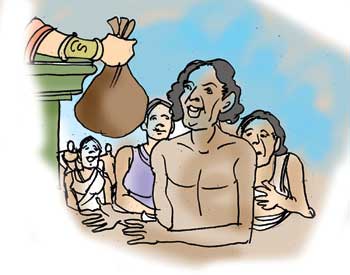 1. As Prince Kulasekera retreated once more, Commander Lankapura chased him and conquered the territories he had won. But he could not catch Prince Kulasekera. By then, he had gone about fifteen miles away from Madhura, to a place named Shanthangudi. He strengthened his security. It was easy for Prince Kulasekera to replenish his army, as the people there looked on the Sinhalese as their enemies.
2. They were
ever-ready to fight for their country. Despite the losses in battles, the people never deserted him. They came in hundreds and joined the army. This time they used a new strategy. They blocked the way, so that Commander Lankapura could not have any access. All supply routes were also closed.
3. Prince Kulasekera damaged the tank that supplied water to this area. However, Commander Lankapura was able to face all these obstacles successfully. He got his army to camp near the tank. They put a temporary stop to fighting. They frightened the people of the area and got them to repair the tank. Then they started the fight. They captured and burnt 'Thiruval,' where King Parakrama Pandya was killed.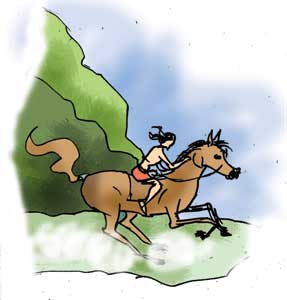 4. The Chola soldiers joined Prince Kulasekera. Encouraged by their help, Prince Kulasekera wished to wipe out the Sinhala power completely. Commander Lankapura often thought twice before taking an important decision. He planned for his soldiers to attack the enemy in the night. But long before that, Prince Kulasekera had left the place so there was no fighting.
5. Prince Kulasekera stopped at a place called 'Palankotte' and erected a fortress. When Commander Lankapura heard this, he along with Commander Jagath Vijaya took their armies, went ahead and besieged that place. When they started to attack the fortress, Prince Kulasekera fled from there too. The Sinhala army destroyed the fortress and took whatever valuables stored there. Among the loot were horses, elephants and most of the things needed for war.
6. The Sinhala army caused a lot of damage to the area around. A number of men were killed. They then went as far as the village of Oorseri and camped there. By this time, Prince Kulasekera was with 'Velara,' who was the ruler of Thuvara. He sympathized with Prince Kulasekera and promised to help to chase the common enemy, the Sinhala forces. He gave elephants and horses that were needed for the war. This contributed to strengthen the power of Prince Kulasekera. Meanwhile, the Sinhala army built a new village in South India. They tried their best to make that village prosperous in every way.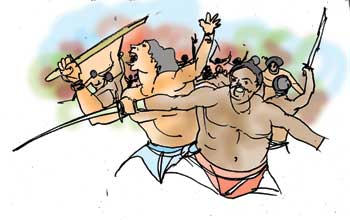 7. In the four main entrances to this city, huge dining halls were put up to offer alms to their Brahmins daily. There were separate dining halls put up to serve the poor. Meanwhile, Prince Kulasekera took his army and marched from the western side of the city of Madhura. Then Commander Lankapura and his army marched there. Here too, Prince had to flee, after being defeated. He went and entered the Chola territory.
8. The Chola king welcomed him. He gave a huge army consisting of the troops of Pallavarasaraya, Inandapada, Thondamana and Rajarajakalappa. Accompanied by these troops, Prince Kulasekera marched again to battle. Commander Lankapura kept Commander Jagath Vijaya in Madhura, and marched with his army, to face the enemy. He approached the city of Keelenielaya and there he had to face Prince Kulasekera, who had a huge army to support him.