Hayleys Consumer to push energy saving with Philips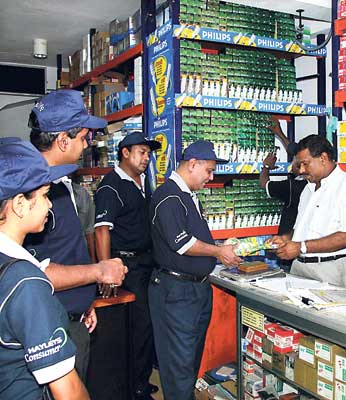 Picture shows Hayleys Consumer Director and CEO Trevor Reckerman (2nd from right) leading a group of staff at an interaction with a dealer in Maharagama.
Staff of Hayleys Consumer Products Limited (HCPL), sole agent in Sri Lanka for Philips Lighting, took to the streets of Colombo and the suburbs recently to promote energy saving and safety via Compact Fluorescent Lamps (CFL).
Clad in distinctive blue T shirts and caps, employees at all levels of the company fanned out to lighting dealers to personally drive home the message that Philips, the global leader in lighting, guarantees a mammoth 80 per cent saving in power consumption with the use of CFLs, substantial savings on replacement costs and protection from ultraviolet (UV) radiation, according to a company statement.
Backed by a simultaneously launched mass-media campaign to highlight the benefits of CFLs and the Philips promise, the shop-to-shop initiative was an extension of the step taken recently by HCPL to promote energy saving among Sri Lankans by slashing the prices of Philips CFLs by up to 23 per cent.
"All of us decided to literally walk the talk," Janaka Kiridena, HCPL's Business Unit Head was quoted as saying in the statement. "The market is full of products that promise much and deliver less. With Philips CFLs comes a guarantee from a global brand and its local partner, that using these products will generate the desired results. We wanted people to hear that direct from us."
A Philips CFL uses one fifth the power of an incandescent bulb of the equivalent luminous output, resulting in 80 per cent less electricity consumption for the same amount of light.