Cargills strives to become a global corporate role model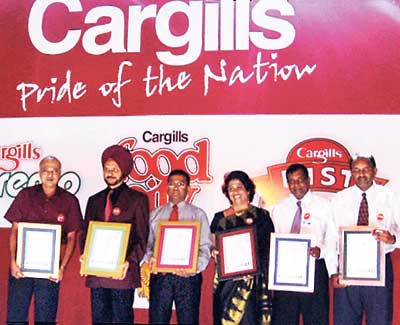 Seen here is the Cargills team showcasing the ISO Awards certificates received. From left - Anthony Page,cChairman, Cargills Group; Dr. Jagjit Singh Punjrath, Managing Director, Cargills Quality Dairies (Pvt) Ltd, Cargills Quality Foods (Pvt) Ltd, CPC Agri Foods (Pvt) Ltd; Sidath Kodikara, Executive Director Retail and Restaurants – Cargills; Ms Sakuntala Durairatnam, Quality Manager Cargills and ISO Management representative, Krishantha Wijesuriya, Unit Head, Cargills Quality Foods and Nimal Gunaratne, Unit Head, Cargills Quality Dairies (Pvt) Ltd.
Cargills (Ceylon) Ltd is to take every possible step towards achieving its vision of becoming a global corporate role model in community-friendly national development. Addressing a colourful ceremony organized to introduce the new vision of the company, Chief Executive Officer and Managing Director of Cargills Ranjit Page said that his company aligned its business goals with issues of national importance with a focus on empowering farmers building youth skills and reducing regional disparity. He disclosed that his company currently partners over 10,000 farmers directly purchasing rice, milk, vegetables, fruits and livestock from rural farming communities spread over 19 districts empowering them with better profits and their families with better quality of life. He added that with the strength of Cargills behind them farmers have adopted new technology in agriculture to enhance their production and productivity. The use of advanced post harvest technologies have reduced post harvest losses in the Cargills network to five percent compared to a national average of 40 percent, he said. As a means of adding value to local produce the company has invested in people and processes apart from its financial investment of over Rs 600 million this year. He reiterated that the recent investment of Rs 300 million in upgrading the Cargills Quality foods meat processing plant stand testimony to the company's commitment towards quality and food safety. Through the 'Green Business' programme Cargills is committed to minimizing its environmental impacts throughout its entire supply chain, from the farm to the trolley. Cargills is also committed to a role of environmental leadership in all facets of its business.
The fully automated Cargills quality diaries plant is the only production facility in Asia that has food safety and food hygiene systems built into its infrastructure. The Cargills work force is 5,000 strong with 80 percent below the age of 25. Only 20 percent of the work force is from Colombo and suburbs. "This is a clear indication of our rural thrust," Page said.
US Ambassador in Sri Lanka Robert O'Blake who was the Chief Guest at the event said that they have been working with Cargills in increasing agriculture production including research and development. He said that public and private sector partnerships are very essential for countries like Sri Lanka and prompt action should be taken to promote such ventures.
Governor of the Central Bank Ajith Nivard Cabbral emphasized the need to bring down the post harvest loss adding that the country's agriculture sector should be developed minimizing market related risks. Minister of Enterprises Development and Investment promotion Dr: Sarath Amunugama, guest of honour at the event, said that the government is adopting a pro-rural development strategy as the country depends on the SME economy.