Harvard Club hosts Tsunami benefit at Lankan embassy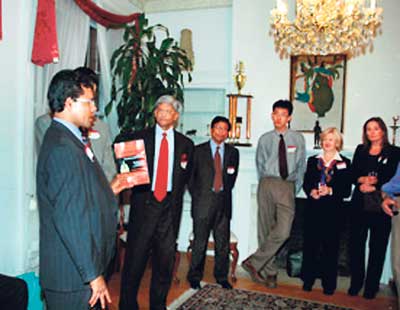 The event
The Harvard Club of Washington DC and the Sri Lanka embassy recently hosted a Tsunami Holiday Benefit on November 28, 2007 to support scholarships and micro-loans provided by Dr. Patrick Mendis.
Ambassador Bernard Goonetilleke welcomed the gathering of Harvard alumni and reminded Harvard Club members that Sri Lanka received universal adult suffrage in 1931, 17 years after the United States. Since then, Sri Lanka has been a practicing parliamentry democracy, he said.
Dr. Mendis, who was born and raised on an irrigated rice field in Polonnaruwa, told his fellow alumni that he "enjoyed the formative years working with water-buffaloes" and remembered the days when he went to school "bare-foot."
Michael Gaw, President of the Harvard Club, thanked the ambassador and his embassy staff for organizing the event and introducing them to the "beautiful island" of Sri Lanka.
Dr. Mendis is a Sri Lankan-born American citizen who served in the U.S. State Department as a foreign affairs officer.