Ranil, Sri Lanka rep. at Cannes Ad Fest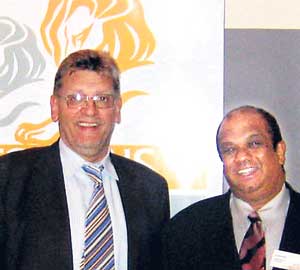 Picture shows Ranil De Silva (left) with Terry Savage, Chairman of Cannes Lions International Advertising Festival at the induction ceremony held in London recently.
Ranil De Silva, top advertising personality and Managing Director of Leo Burnett Solutions Inc (LBSI), was recently selected as Sri Lanka's representative for the Cannes Lions International Advertising Festival.
This prestigious honour, bestowed on one of Sri Lanka's most prominent names in advertising, is a move by Cannes Lions International to increase its global presence and expand its network of representatives. An induction ceremony was recently held to welcome 12 new members to the Cannes Lions fold, taking Cannes Lions to over 60 countries around the world.