Southern transportation infrastructure key for sustainable development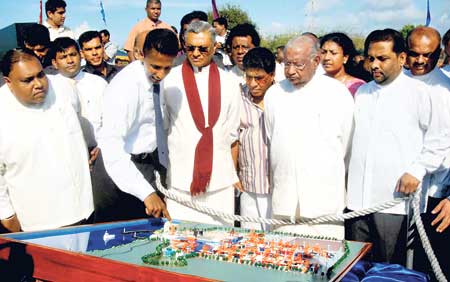 File Picture of the PM looking at plans of the Colombo Port.
Most of the key transportation infrastructure is saturated in the commercial capital and suburbs resulting in sluggish economic development and growth. The ripple effects are not only felt in Colombo but throughout the country in view of the fact that the entire country relies on these sole-infrastructures in Colombo. It is high time to implement a national development plan before the economy comes to a grinding halt. With this purpose in mind, the following 10 reasons are listed on why Sri Lanka's strategic location vis-à-vis the southern part of the country should be exploited to attain sustainable development.
The on-going concentrated economic activities in the densely populated city are attracting more people from the suburbs to the Central Business District (CBD). As a result, the CBD and suburbs are forever congested during peak times due to the high vehicle volumes on already capacity restrained main-roads. One way to avert this is to partially move the economic activity to an alternate area where infrastructure is accessible.
The Colombo metropolitan area is populated and any land if any is scarce for transport related ancillary facilities such as warehouses, container yards, truck parking, etc. Thus, any fresh developments should be shifted further away from the CBD to an area with fewer constraints.
Airports and seaports are complimentary economic nodes with high significance and should be located in close proximity to each other and if Sri Lanka is to endeavour to be an international hub and to compete with hubs such as Singapore and Dubai, existing infrastructure should be expanded or alternate infrastructure should be developed in such a way.
The Colombo port is currently operating at capacity and hence, ships are delayed and encouraged to by-pass Colombo. Thereby exports, imports and transshipments are hindered and discouraged. Even though the Colombo South Harbour project is finally underway (which should have been operational by now) it is envisaged the proposed port expansion would be saturated in the next 5-10 years and would result in similar consequences as present. Thus a port in the south should be developed and operational in the next 5-10 years to move towards the regional hub status.
With the Hambantota port development project underway in the southern region of the country, it would be less of a deviation from the main international sea route (east-west route) in comparison to the Port of Colombo. This would be a significant motive for ships to call at that port because time is of critical importance. On a daily basis there are hundreds of ships that by-pass Sri Lanka, and a port in the south of the country should also offer other services such as repairs, bunkering, etc. These developments may attract more transshipments originating from India as well as ships.
With the Indian economy booming, Sri Lanka should be positioned to grasp a slice of it. More than 70% of the Colombo Port throughput is transshipments from India. Under India's proposed Sethusemudram project, it is planned to create the missing link of a 'Hub'. Thus, India holds greater competition to Sri Lanka's hub status than Singapore or Dubai. Nevertheless, this competition should be anticipated from all these countries and countered by offering greater efficiency to importers, exporters and ship operators. Thus, the strategic location of Sri Lanka should be exploited and should offer a great service to these stakeholders by developing a port in the South.
Sri Lanka has one international airport located about 35 km north of Colombo. Although there are a few other domestic airports catering to smaller and military aircrafts there are no facilities which could accommodate a standard passenger flight even in an emergency. International regulations require passenger flights to carry extra fuel in case of an emergency to land in an alternate airport. Thus international flights calling at Sri Lanka always carries fuel to fly to Maldives or South India which is one to two hours of flying time. This results in carrying less cargo, less profitability and less attraction for international airlines.
Having to solely rely on one international airport is an economic burden and it was evident when this was shut down during the terrorist attacks. Hence, the proposed airport at Weerawila which is in close proximity to the proposed Hambantota Port would be an ideal complimentary infrastructure to ensure minimum disruption to the economic activities of the country at such times.
Most of the Export Processing Zones/parks and Industrial Parks are found in the western and the central parts of the country and cargo is routed via the Colombo Main Access Roads (though required to transport during non-peak times) and consequently hinders day-to-day commuters as well as cargo transporters. The only noteworthy Southern Processing Zones/parks (Koggala and Mirijawela) in the south are also required to transport consignments through Colombo for exports (by air/sea) as well as imported (by air/sea) raw materials. By developing transportation infrastructure in the envisaged area the efficiency of these zones/parks would be improved and industrialization would be encouraged in the locality. For instance, an airport in the region may promote exporting of seafood to countries such as Japan overnight.
The southern coast line is one of the greatest tourist attractions that Sri Lanka could boast about. However, foreigners have to put up with the busy airport at BIA and are confronted with congested roads to get to their ultimate destination. Thus, developing an airport in the region would promote Sri Lanka and as a favourable tourist destination and further strengthen the weak domestic airport network.
The mentioned two mega southern transportation infrastructure developments alone may not be sufficient for sustainable national development. Other complimentary transport infrastructure such as an extension of the Southern Expressway to Hambantota and extension/expansion of the rail network from Matara to Hambantota is pivotal to alleviate any land transportation barriers and to derive proper benefits of the mega-infrastructure developments. Additionally, power, communication technology and other infrastructure also should be in place to make Sri Lanka the logistics hub of the South Asian Region. It is important that before going full steam ahead, proper policies and town planning should also be in place, otherwise after a few decades the country would be in the same state as it is at present.