Fancied cueists advance to the second round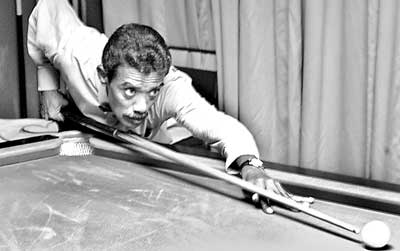 Rohitha de Silva of SLPA in action against Dilan Jayawardena of MRC which he won. Pic by Ranjith Perera
The completion of the fifth day's play of the 55th National Billiards Championship worked off at the Billiards Association headquarters billiards table in Reid Avenue saw some fancied players advance to the second round which is due to get underway on December 5.
The billiards nationals in progress now will be of significance to reigning champion K.H. Sirisoma of SLPA who is in line of breaking the all time record of 16 national's titles held by M.J.M. Lafir which incidentally was equaled by Sirisoma last year.
This time out there is no stiff opposition for the reigning champ with last year's runner up veteran Henry Boteju unable to take part as his entry came in too late.
Sirisoma has already qualified to the second round along with B.R. Tilakaratne (BRC), A.A. Kareem (MSC), Ryan Somaratna (OAC), M.J.A. Thasleem (MSC), B. Srirwardena (BRC), Anil Rohana (Carlton SC), P. Pushpakumara (YMBA), Wazeer Hashim (BPPP), Nalin Dissanayake (Orient SC), A. Jayaratne (YMBA) and Sunil de Silva (OAC).
Meanwhile only two matches were played from the five that was scheduled in the morning and evening sessions with the other three ending in walk overs. MSC's Dilan Jayawardena lost both his matches one to S.I. Hinoon of YMBA and the other to Rohitha de Silva of SLPA. The first round matches will conclude today with eight matches down for decision.
Results:
S.I. Hinoon (YMBA) beat Dilan Jayawaerdena (MRC) 3/1 (101/62, 77/101, 100/90, 100/72); Rohitha de Silva (SLPA) beat Dilan Jayawardena (MRC) 3/1 (102/63, 102/81, 68/100, 100/70); Nalin Dissanayake (Orient SC) w/o from H. Ahamed (MSC); Ryan Somaratna (OAC) w/o from S. Mihular (OAC); Nalin Dissanayake (Orient SC) w/o from Wazeer Hashim (BPPP).