Be a woman, be comfortable
Cotton. For the trees, the air and the planet. For our children and their children. And this Christmas, Cotton is for the real women of Sri Lanka as Cotton Collection celebrates femininity, strength and beauty through three different personalities. Fronting the "Real Woman"campaign are three women who have never been afraid to push boundaries: Minoli Ratnayake, Shyamalee Tudawe and Anitra Peiris.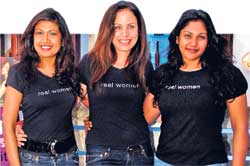 Faces of Cotton Collection: Shyamalee, Anitra and Minoli
"Cotton Collection has been mainly about women for a long time," said Managing Director of Cotton Collection Niloufer Anverally, emphasizing the campaign's celebration of the real woman.
"Women live such an essential role in our society and we need to celebrate them, uplift them and make them feel good about themselves. We want women to stand up for their individuality, be comfortable in their own skin, and be true to themselves and their loved ones," she said.
Combining vivacity and femininity, in her green dress in a bathtub on a billboard in central Colombo, Minoli Ratnayake was thrilled to be a part of the trio.
"A real woman is always true to herself," said Minoli, the chief editor of five magazines (Adoh!, Machang, Confetti, Hot Property and Room Service ) and director of Well Red Ink, adding, "we are all quite strong and opinionated in our own right."
Minoli praised Cotton Collection's new campaign for its unique encouragement of women to deviate from the conventional roles that society tends to trap them in. "I hope every woman out there will identify with something they can relate to in one of us," she said.
Mother of two teenage sons, the Editor of Hi!! Shyamalee Tudawe exudes strength and forthrightness. "Some people have called me a feminist," she said, "Women must have the confidence to let society see the power, strength and character that lie behind the true woman."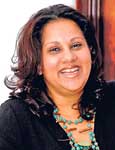 Niloufer Anverally
Described as "Editor, Wife and Total Diva" Shyamalee says she has taken the campaign in her stride like much else that happens in her dynamic life. "I believe if women are happy in what they do, success is sure to follow," she said.
Represented as a dancer in the campaign, former model Anitra Peiris says that she has never conformed to society's norms and has continued to live her life to the fullest. "My lifestyle is geared towards balancing responsibilities and fun moments in a way that I feel fulfilled and happy, which then naturally permeates to my family and those around me."
Niloufer, who worked closely with all three women during the run-up to the unveiling of the campaign said, "Each is their own person, fun, and lovely and a great multi-tasker. I wanted women who were different, but also those who can be role models for thousands out there who may not have the confidence or the courage to take up the baton."
Niloufer expressed her wish to present women with opportunities, options and choices to experiment with through Cotton Collection. "This campaign is dedicated to every woman from the age 18 to 50; those who are homemakers, business and professional women, mothers, wives, sisters and friends," she said.