Burgeoning art
The lotus flower is a symbol of purity triumphing over evil…it represents creative power and serenity in the midst of adversity…and it also symbolises long life, health, honour and prosperity…Lotus Pond an exhibition of recent paintings by Shanila De Alwis will be held from December 9-14, from 10.30 a.m – 7 p.m, at the Gandhara Gallery (No: 28 Stratford Avenue, Colombo 6.)
The serene and pure beauty of the lotus flowering above the muddy waters inspires this latest collection of paintings. Considered together, the collection is a spiritual contemplation on the nature of life. Several series of paintings, bound by the lotus motif but executed in different hues, form the heart of the collection. One series is in vivid tones of blue, green, purple and gold, while another particularly striking group is a contemporary, stylized rendition of the lotus theme in bronze, gold and black. The collection is also reminiscent of traditional Sri Lankan artistic expression, evoking the lotus motif in Buddhist architecture and paintings, says Shanila about her work.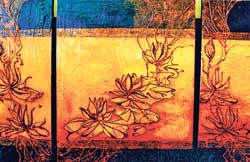 "The lotus symbolizes an 'empowering idea' as it grows in the mud, the deeper and murkier, the better, yet it stays pristine. Though mud sticks to other plants, not so with the lotus as it has a self cleaning attribute called the "lotus effect." Out of the muddy swamp blossoms the pure lotus, and thanks to the mud, the Lotus can survive. It's like how the problems we face everyday make us stronger and more resilient," she added.
According to Shanila, no matter what subject matter a painting comprises of, whether figurative, abstract or contemporary, the painting should give life to its surroundings, while creating an atmosphere which best complements the environment it is in. She does this using mixed media and acrylics and via another speciality of hers, the use of series paintings. She captures a certain series of movements, expressions, events or processes and displays them side by side on a wall, almost like relating a story but, giving the viewer the freedom to interpret what they see, however they want to, elaborates Shanila.
Art has always been a true inspiration in Shanila's life and is something she loves doing as it gives her an immense sense of satisfaction. She believes that the discipline and hard work that goes into it always brings back rich dividends. Over the years, her art has been recognised and appreciated by a wide audience, including renowned artists, private collectors and leading organizations, both local and foreign.
"Painting is not just a way to express my artistic talents, it is also a form of meditation and relaxation," she says. Her art has been appreciated by a wide audience, including private collectors and leading organizations, both local and foreign.
Shanila studied fine art at the Malaysian Institute of Art in Malaysia, where she was awarded a gold medal for being the 'Best Fine Art Student of 2003.' Lotus Pond being her fourth solo exhibition, she is currently a full time artist and her paintings which have been commissioned and exhibited by varied lovers of art and leading organizations, can also be viewed on her website.
Visit www.shaniladealwis.com for more details and the paintings featured in the exhibition may also be accessed on the site, upon its conclusion.