BPO in the A'pura backwoods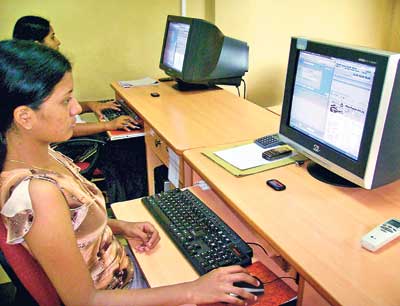 OnTime operators
MAHAVILACHCHIYA, Anuradhapura - Business Processing Outsourcing (BPO) is a growing business globally which Sri Lanka has now cottoned onto quite capably.
Dozens of BPO's are springing up here as global companies look for cost effective ways of handling their back-office operations in countries where labour and communications are cheaper than the west.
Yet ever heard of a BPO company in a jungle setting, next to a wild life park and subject to the occasional threat by the LTTE? OnTime Pvt Ltd is part of rural Sri Lanka's first IT village, Horizon Lanka in the backwoods of Mahavilachchiya (adjoining Wilpattu) off Anuradhapura, where a group of youth processes data for a fee.
There is nothing different in the BPO industry in processing information inside the office of the client or the service provider located elsewhere. For example, staff at Mahavilachchiya's proud company, OnTime, processing marketing data for a John Keells Group subsidiary daily could – if we close the curtains in this nice office surrounded by shady trees and occasional bird calls – very well be inside a JKH office in Colombo. There's nothing different.
OnTime operators log into a JKH SAP accounting system through a secured link and enter data like prices and quality of suppliers. Some 150 documents are handled by one operator per day. Dialog Telekom and Singer are expected to join OnTime as its next clients with negotiations going on with the two parties.
"The BPO entry came as we needed to create job opportunities for our youngsters to remain in the village after their initial learning in English and IT," said Nandasiri Wanninayaka (better known as 'Wanni"), the village boy-English teacher-turned village entrepreneur.
Horizon Lanka, Sri Lanka's first IT village, is a revelation itself. Launched by Wanni, as a Mahavilachchiya school teacher, in 1998, the initiative began as an English teaching exercise for the children whose parents were mostly rice farmers. From there with one computer donated by the US embassy, impressed by an English journal that the students did, the village has progressed to a centre of IT learning where one in every eight families has a computer (a ratio of 100 computers for 800 families).
Unheard of before but in these backwoods poor farmers are reading online newspapers in the comfort of their makeshift homes with uptodate computers with the help – unbelievable again – of seven wifi zones under a new technology called MESH. Here a section of the village amidst paddy fields and streams has wireless Internet access at all times.
Wanni and his Horizon Lanka exploits are legendary and profiled in newspapers and TV stations across the world. The IT village's biggest opportunity probably came when Wanni and his best students shared the stage with Intel Chairman Dr. Craig Barrett in December 2005, during the latter's visit to Sri Lanka and presence at a major IT conference.
The idea of setting up a BPO emerged as Wanni pondered on the next level of development. "Having taught English and then IT, the next issue was where do they get jobs? How can we retain them in the village?" he asked.
Enter the Foundation for Advancing Rural Opportunities in Sri Lanka (FAROLanka) to help Horizon set up its BPO and find its first client. FARO's help however comes with some conditions – Wanni's support and guidance to help other villages to develop on similar lines which the latter and his team are more than willing to do.
Isuru Senevirathna is OnTime's Operations Director. He has received BPO training – along with another OnTime employee – in Laos and India sponsored by John Keells.
The 20-year old youth like any other Mahavilachchiya youngster would have had to either join the armed forces (in the case of girls it's garment factories) or remain in the village as a farmer, until Wanni and his vision came along. Now Isuru is the proud owner of a motor cycle, happy and contended.
OnTime CEO is Nirosh Manjula Ranathunga, a 30 year-old graduate from Kelaniya University who studied IT while doing his B.Com degree. Ranathunga, who lives in Anuradhapura and visits Horizon twice a week saying he can handle operations from his home town easily through email/Internet, is also interested in transferring his skills and learning to other villages. He has his own company, Real Business Solutions, and runs a formerly-owned Horizon Lanka cyber café in Anuradhapura.
"I joined Horizon Lanka two years ago as a project manager and I'am very happy with this BPO initiative," he said. Some 50 youths are being trained to take up BPO jobs in Mahavilachchiya which has a modern computer lab with 512 KBPS Internet connection. The Horizon Lanka website is www.horizonlanka.org