'Mazza - Mezza' at UBG
'Mazza Mezze' is the latest attraction at the Union Grill of the Hilton Residence on Saturdays. Experience the new taste sensation in town, the flavours of the Mediterranean and Middle Eastern cuisine at the UBG every Saturday night. 'Mazza Mezze' offers the unique cooking styles of the Mediterranean and the Near East, which covers Greek, Spanish, Turkish, Lebanese, Moroccan and Egyptian cuisines. A unique feature about the Mediterranean style of cooking is that all the dishes are either pan seared or baked to perfection.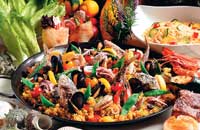 Thusitha Fernando is the new executive chef at the Hilton Residence, who recently transferred from Hilton Salalah. He returns to Sri Lanka after 16 years of working in the Middle East and some regions of the Mediterranean. 'Mazza Mezze' is chef Thusitha's personal creation and passion. The fresh and authentic starters and salads are simply brilliant, stuffed vine leaves, Greek feta cheese salad, Octopus in red wine, hommous, tabouleh, salad Mousakah, Mozzarella en Carrozza are only a few of Chef's favourites.
'In order to enjoy true Mediterranean food you have to take time out to relax and savour the good food with a bottle of wine for at least two hours. The scrumptious buffet continues with succulent and healthy main dishes including Quzi with oriental rice' he said.
Paella valenciana, Lamb Bahima, Baked Moussakah, fish Granada style, garlic mash potato with olive oil are some of the attractions 'Mazza Mezze', which are perfectly suited to the UBG with its great grills where marinated Kebabs and koftas will be sizzling. A special carvery will be in place to make the best shawarma in town and finally complete the Mediterranean voyage with irresistible Hilton desserts.
The "Mazza Mezze" themed evening starts at 7.00 pm every Saturday night, a live music band will also be playing soothing tunes to create the perfect ambiance at the UBG.