'Sunil's Beach' for the traditional beach vacation
Narigama, Hikkaduwa is one of the most popular beach destinations in the world. Since the tourism boom in the seventies, Hikkaduwa leads its way from the front to attract a major portion of Lanka's tourist arrivals. After almost three decades, the popularity for this place never changed.
Sunil's Beach Hotel stands tall amongst the rest in Hikkaduwa for the last twenty five years catering to guests from all over the world. Situated in the sun kissed, palm fringed golden beaches of Narigama, Sunil's Beach Hotel offers its guests all those little comforts they really look forward.
The hotel has 54 delicately appointed spacious standard double rooms and six deluxe/suite rooms overlooking the sea. 'Our top priority is to give the guest an extremely obliging personalized service. I think it is important to give the best service, that will go long way. Food, comfort and other things come second, if we can cater to their needs and wants' said T. Piyadasa, acting Manager of the hotel.
Other facilities at the hotel includes AC and non AC rooms. Air-Conditioned and Non-Airconditioned Rooms, En-suite bathrooms equipped with shower and toilet, running hot and cold water and courteous 12 hour room service. Seagull Restaurant of the hotel is the main dining area and it serves a wide array of Eastern and Continental cuisine prepared by P. Ruwan Kumara, the master chef. Sea food specialities are the most popular among its visitors.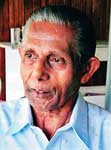 T. Piyadasa,
'Savour the typical Sri Lankan weekly buffet with spicy Sri Lankan dishes prepared the original way to suit your palate' he said.
Mermaid Bar located adjoining the spacious reception Lounge and just while away the evening listening to feet tapping live music.
The main target market of the hotel is the German market. 'We get lot of German tourists and MWR. Travel Agent in Germany is the top agent for us' Mr Piyadasa said. 'Apart from European Market, our main vision is on Sri Lankan travellers. Excursions and cultural shows are some of the other interests of the European travellers' he said.
Outdoor dining is a popular event with guests and large garden by the pool provides the facility for the service. A Doctor on call and laundry service are the other facilities available at the hotel. Sunil Beach Hotel is owned and managed by businessman Sunil Siriwardena.