More than playing with words
The 8th annual Sri Lanka Association of Senior Citizens' Scrabble Tournament is set to be a battle of wits, vocabulary and out and out cunning. Over 50 participants will each play six games in which they will try to beat the odds, the clocks and their opponents in style. But while pure skill may win the trophy, laughter and camaraderie promise to be the real prizes of the day.
A game of scrabble has proven to be both a challenging and enjoyable way of occupying a few hours, says Indrani Athukorale, Vice Chairperson of SLASC. She explains that such events give many retired and elderly people a chance to put their grey cells to work, even as they serve to bring people together. Mrs. Athukorale who has watched the tournament increase in popularity since 1999, when the association first instituted the event, says that many participants attend in part to meet friends, and enjoy a break from the routine.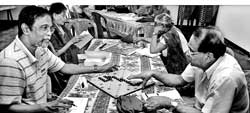 There are the serious scrabble players as well, however, and the SLASC team has come up with a plan that meets everyone's requirements of what a good scrabble tournament should entail. Would-be participants must decide which of the two categories they will sign up for. The first – Group A – is run in strict compliance with international regulations and dictionaries. The second – Group B – is non-competitive in that it is considerably more relaxed and the rules are lenient. While a victory in the latter will still get you a prize, it is only the winner of the Group A games who becomes eligible for the Deshabandu Clara Motwani Memorial Cup.
Shaila Amalean, who is Chairperson of the Tournaments Committee for the Sri Lanka Scrabble League, has been adjudicator of the event since it began. The standard of playing has only improved, she says, adding that the trophy is hotly contested. There are no easy victories, and this year will be no different. Things get tougher for Group A who will be playing with the new Official Scrabble Dictionary from Collins, rather than the usual Chambers or Webster's. The move mirrors changes in international tournaments made by groups like the Association of British Scrabble Players. It will mean that while a few words will be deleted, several hundred more have been added. (For those eager to engage in a word bath, the dictionary is currently available in some local bookshops.) Group B, by popular demand, will stay true to the Oxford English Dictionary revealed Mrs. Amalean. Each player will be required to play six games with one opponent. As adjudicator, Mrs. Amalean has instituted some practices that reduce what she calls the luck factor. The result, she hopes, will be a fabulous game of scrabble, played with all the strategy required of a game of chess. The overall winner will be selected on the basis of the highest score across all six games. Aside from the rolling trophy, runner-up prizes will also be awarded as will prizes for the highest word score, highest score in a single game as well as the highest number of bonus words.
The last, which can be a real trial of skill, is accomplished when a player uses all seven tiles on his or her rack to create a single word. Other clutch points are of course, when a player overdraws and must lose some of his or her tiles or when a challenge is issued, and players must verify a word by consulting a dictionary, even if it means risking one's own turn.
Aside from the matches themselves, participants can look forward to a raffle in which there are air tickets and DVD players to be won, among many other prizes. While the event is one of the highlights of the SLASC calendar, the association also organizes many other events throughout the year and boasts a vital, active community of senior citizens. Life membership costs only Rs. 150 and comes with the promise of many game hours, outings and get-togethers, says Mrs. Athukorale.
Those interested in participating in the Scrabble tournament on October 28 at the Colombo Hilton should contact Mrs. Indrani Athukorale at 102/1, Dharmapala Mawatha, Colombo – 7 tel: 2696993.
The tournament is open to anyone over the age of 50. Registration is Rs. 500/- per head and includes snacks and refreshments. Registration also officially closes on the 21st. Late entries will, however, be accepted after the payment of a latecomer's fee. The Interact Club of the Asian International School are co-sponsors of the event.