Mother's death: Gauze the cause
A woman who successfully delivered her baby by Caesarean section in May this year died of complications early this month after surgery was performed on her to remove a piece of gauze which had apparently been left behind after the Caesarean operation was performed.
The 29-year-old pregnant woman, identified as M. V. Geetha Nimali, was admitted to the Ampara hospital on May 28 and successfully delivered her baby in a Caesarean operation. She was discharged after five days but continued to show signs of illness, chief among them being her inability to eat.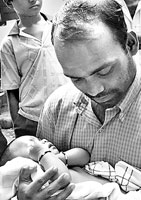 Chaminda with his
little baby
She was readmitted to the Ampara hospital only to be sent back home after doctors did not find any sickness in her. However, her condition went from bad to worse necessitating her admission to hospital for the third time. She was subjected to scanning and X rays but the reports did not indicate the cause of any sickness. As her condition grew worse she was transferred to the Kandy hospital where she was operated on.
The surgery revealed a piece of gauze used in surgery had been left inside her, apparently after. the Caesarean operation in May at the Ampara hospital. Further surgery was performed on her at Kandy as doctors found her condition getting critical. She died on October 2 apparently caused by infection of a wound due to the presence of the gauze in her body.
She had married Chaminda Wijekumara in July 2003 and this was her first child. The operation at Ampara hospital was performed by a specialist who sometimes had to perform as many as 30 caesarean operations a day. An oversight had apparently been made and the piece of gauze not removed in spite of an apparently successful operation. Nimali's soldier husband is now left with the new born child sans its mother.