Jumping jeweller causes loss in millions
A bogus investor in Pettah is reported to have swindled over a 100 people to the tune of over Rs. 30 million. The man is believed to have fled the country.
At least 15 victims, some of who have lost nearly Rs 2 million have complained to the Colombo Fraud Investigation Bureau, while some of the victims have also lodged complaints at the Pettah police station. According to the complaint, the suspect, originally from Mutur had been running a jewellery store at Sea Street in Pettah and had persuaded an unsuspecting public to invest with him by assuring them a steady monthly dividend of Rs. 3,000/- for each Rs. 100,000 invested. He paid on time and thus won the confidence of the people.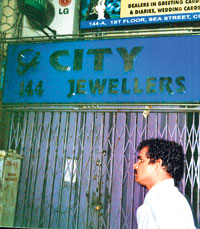 All that glitters is not gold. Pictured is the closed jewellery shop where investors part ed with their cash
Some businessmen invested with him under the impression that it was risk free. Some of the victims had gone as far as mortgaging their property and other valuable possessions, while public and private sector employees obtained loans at low interest rates and invested for higher return.
The victims later realized that the cash the suspect distributed monthly as dividend and profit to his investors was in fact those derived from investments of the victims themselves. They further complained that the suspect had always maintained an overdrawn bank account in Sri Lanka and had settled all the over-drawn balances prior to his departure.
Dr. M.A.M. Anas, a shareholder at the suspect's jewellery store who is reported to have lost over Rs. 5 lakhs said "the victims are now in dire economic and social straits. They have lost large sums of money and have become a laughing stock in society". He added that they are in the process of creating a website containing the relevant information, photographs and documents, in an effort to seek public help in tracing the suspect.
However seasoned business people too are reported to have been duped by the suspect. Staff at a jewellery establishment situated in the vicinity of the suspect's store, admitted that they too had fallen victim to the wiles of the suspect and had lost around Rs. 600,000/- as a result. A jeweller from Matara who lost around Rs. 600,000/- was in a state of shock. He claimed to have been conducting business with the suspect for over six years. SSP H.K.S. Pinidiya of the Colombo Fraud Investigation Bureau revealed that investigations were underway but believed the suspect had fled to India. He said this made investigations more difficult. "However we are conducting inquiries", he told The Sunday Times.