SLT/PC House to distribute Broadband Internet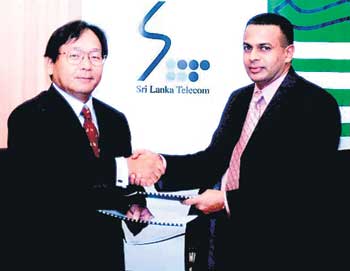 The agreement ceremony.
SLT has signed an agreement with PC House to expand its sales distribution channel for the company's Broadband products. Through this initiative SLT will be able to offer Broadband products to its customers via 41 PC House branches including North and East in addition to SLT teleshops and regional offices island wide, SLT said in a press release.
PC House will serve customers with SLT Broadband products such as Entrée Package, Home Express Package and the Office Express Package on ADSL technology which provides download speed up to 2Mbps connectivity. Any customers can purchase equipment such as PCs/Laptops, ADSL modems and routers from any PC House branch with the technical support for the configuration. Also with this initiative PC House will accept new applications for the SLT Broadband products.