Panora goes global with Taiwan expansion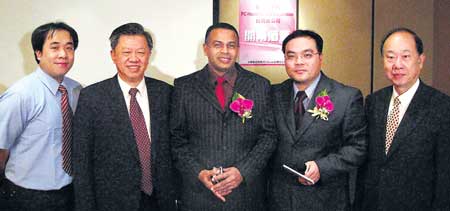 The Panora Taiwan Team (from left) -- Anderson Wu - General Manager Panora, Jeff Liu Senior director of Asia Cement, S.H.M Rishan - Chairman Panora Taiwan (TW), Edden Chien - General Manager Panora TW and Mao-Lin Wu - Deputy Chairman Panora TW.
Panora Corporation Ltd, Sri Lanka's first ever PC assembling operation, has entered the international business arena with the setting up of their first offshore operation in Taiwan, called Panora Taiwan.
The majority shareholder of Panora Taiwan is S.H.M. Rishan, Chairman of PCH Holdings (Pvt) Ltd while Edden Chien and Anderson Wu are the overseas partners/investors.
Rishan, according to a company statement, said the objective of this regional expansion is to reach out to international markets, mainly the Asia-Pacific region, Russia, Australia and New Zealand, Far East and Middle East and capitalize on the ever increasing and diversifying demand for IT products and services.
"Any business related to IT sector, whether it is software or hardware has become a very competitive trade, locally and globally. In order to support our bottom-line, to enhance business scalability, to allow the free flow of industry related business practices and to bring in much needed foreign exchange to Sri Lanka while generating employment, we as local entrepreneurs should think beyond our horizons. Panora Taiwan was set up with these objectives in mind," he said.
At Panora Taiwan buying, selling, re-treading, importing and exporting of IT related products will take place and it will also act as PCH Holdings' International Procurement Hub and as its International Trading arm.
As the procurement hub, Panora Taiwan will represent PCH Holdings in the purchasing of computer peripherals and Panora items like monitors, keyboards, mouse & casings, office automation machines such as Kyocera Mita photocopiers, Optoma projectors etc. This overseas operation will help Panora Corporation to purchase accessories and peripherals cheaper, faster and to enjoy credit facilities, which are normally not given to foreign companies, the company said.
Panora computers will be assembled in Taiwan using material sourced from OEM partners and strict attention will be paid to maintain production guidelines and quality assurance policies of Panora Corporation, Sri Lanka.
Rishan said that expected revenue from this enterprise by the end of 2008 is US$90 million.
"When we commenced operations of our purpose built Panora Corporation production facility six months ago with an investment of nearly Rs 1.5 billion, we envisaged this overseas expansion. This plant that has provided employment for over 100 skilled workers has the capacity to turn out 12,000 units of PCs per month," he said adding that the five year old company has rapidly caught the market and has a 45% share for desktop PCs in the local market.