Brand new laptop for village blogger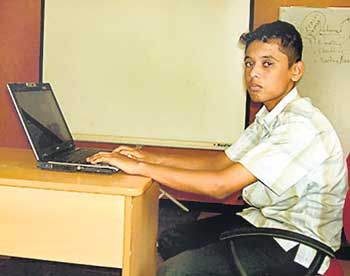 Tharanga Sampath
Seventeen year old Tharanga Sampath is the proud owner of a brand new laptop for being the best blogger at Horizon Lanka Academy in Mahavilachchiya village in north-central Sri Lanka.
The laptop was donated by Dr. Ing. E. Leuthold from Switzerland in coordination with the Lak Saviya Foundation after contacting the Horizon Lanka Foundation in April, Horizon said. Leuthod has already promised to send two more laptops for the next two best students.
What began as an after school club providing children further education in English and computers, Horizon Lanka has branched out, providing an all round education to the village children.
It has expanded into the information age and now services the entire community with computer labs with 24 hour Internet access. Staff at the Foundation describes Tharanga as 'showing a keen interest in Horizon affairs for the past few months since he joined the Foundation.'
He has recently been given the responsibility of handling lessons for juniors and 'has the good quality of fulfilling whatever duty is assigned to him with a great deal of preparation and devotion.' (NG)