Jinasena's and the world of tyres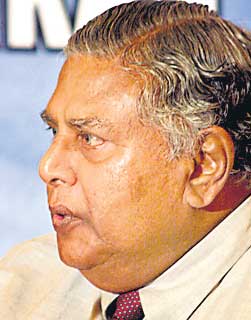 Dr Nihal Jinasena
The Jinasena family, coming out of the closet this week, unveiled probably Sri Lanka's best known business secret -- running the world's largest solid tyre company and now planning to bring home skilled Sri Lankans working overseas with competitive wages.
"You may ask why have we been silent for so long? The Jinasena's don't (normally) blow their trumpet," laughed Dr Nihal Jinasena, Chairman of Loadstar, during a media briefing to celebrate the company's achievement of winning the Gold Award for being the most outstanding exporter of the year 2006 awarded by the National Chamber of Exporters of Sri Lanka.
In a rare meeting with the media on the success of Loadstar, a joint venture between the Jinasena Group and Solideal of Belgium, Jinasena spoke of plans to raise turnover to Rs 40 billion in 2008-09 from Rs 25 billion in 2007. The company has hired top management consultancy McKinsey and Co. to raise standards and hire the best from outside including any Sri Lankans who wish to return and work in their motherland.
Loadstar is the world leader in solid tyres, controlling 25 percent of the global market while having a five percent stake in the pneumatic tyre segment. The company through Solideal has 120 locations in 60 countries with three state-of-the-art factories in Sri Lanka.
"We have achieved an average 25 percent annual growth rate over the past 10 years and invest over Rs.800-900 million each year in past three years," Dr Jinasena, a former chairman of the Securities & Exchange Commission, said.