Fukuda set for victory in Japan leadership race
TOKYO, Saturday (Reuters) - Yasuo Fukuda is set for a decisive victory in the race to become Japan's prime minister, surveys showed today, as the two candidates to succeed Shinzo Abe prepared their final pitches to party faithful. The Liberal Democratic Party (LDP) will pick a new president on Sunday hoping to revive its fortunes after a year marked by scandals, an election rout and a leadership crisis sparked by Abe's Sept. 12 decision to resign.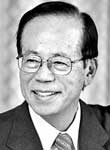 Yasuo Fakuda in line to be Japan's next Premier
The winning candidate needs a majority, or 265, of 528 votes comprising 387 LDP members of parliament and three representatives from each of the party's 47 prefectural chapters. A survey by the liberal Asahi newspaper showed that Fukuda was expected to secure more than 60 percent of the votes from the lawmakers and a majority of votes from the local chapters.
A poll by the conservative Sankei newspaper also put Fukuda, 71, far ahead of hawkish former foreign minister Taro Aso, with more 70 percent votes from the lawmakers and about half of the votes from the chapters. The leadership race winner is guaranteed to become prime minister by virtue of the ruling coalition's huge majority in parliament's powerful lower house. The winner will formally become prime minister on Tuesday after a parliamentary vote.
But the next leader faces the daunting task of dealing with a sharply divided parliament, where combative opposition parties control the upper house. One of the biggest challenges for the new premier will be to extend past a Nov. 1 deadline a naval refueling mission in the Indian Ocean in support of U.S.-led operations in Afghanistan.
Fukuda and Aso stressed the need for Japan to continue its naval mission as part of global efforts to fight terrorism. Abe, who turned 53 on Friday, abruptly announced his resignation last week, saying he wanted to clear the path for a compromise with opposition parties over extending the mission.