Hemantha sings to the hearts
Violinist, organist, guitarist and vocalist, Hemantha Hapurachchi has been in the music scene for the last fifteen years. 'Sandwanee' (Symphony) his first one-man musical show will be held at 6 pm at Mirigama Youth Theatre on September 22. Trained by his father who was a Visharadha in violin and SLBC's A-Grade singer, his exposure to an open air musical show was as a kid at the age seven.
'I was brought up in a musical background. My father being a professional musician had a lot of influence on me for me to take to music. I studied music as a subject at Giriulla Wickramaseela MMV and I was an ever ready participant at anything related to music in the school' said Hemantha reminiscing his past.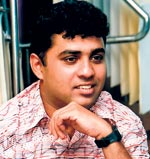 Hemantha Hapuarachchi
For this young musician there was a very rich soil to grow in the field of music. Well-known musician Sunil Dayananda Konara being his music teacher in the school, he received correct guidance and clear vision to become a musician.
Leaving school, Hemantha's next guru was veteran musician Shelton Premaratne. Mastering violin in Western style under the tutelage of Mr. Premaratne, Hemantha joined the Sri Lanka Army band as first cournett player. While serving in the Army band, Hemantha also played the keyboard for the 'Army beat band ' also. By this time he also played keyboard for groups 'Teachers' and 'Mega Six'. This followed a break up from music for Hemantha for four years.
His return to music was with a difference. 'Becoming a singer, I wanted to use music for more meaningful purposes'. The result was a few new songs released to the media."My main intention is to bring back the real soothing effect of music at a time when music is distorted so much. Having a musical show like 'Sandwanee' is for the audience who love light music that pleases everybody's hearts.
'Sandwanee' is also repeating history for Hapuarachchis. It was exactly twenty seven years ago the first musical show titled 'Sandwanee' was organized at D. S. Senanayake College, Mirigama. But that was not by the son but the father, Ariyadasa Hapuarachchi.
Speaking on competition in the music scene and the large number of songs that appears but disappears soon, Hemantha says that he wants to be a more disciplined musician while developing his own style.'I have studied both western and eastern music. When we were young we heard and enjoyed the music of Mohammed Rafi and Latha Mangeshkar and Ravi Shanker. My heart was with their soothing music. And I want to maintain this quality in my music too' explains Hemantha.
Hemantha will release eight original songs at the concert. They are penned by Gunaratne Ranatunga, K. D. Chandrasena, Nimal Gunasekara and Shantha Kumara Vithana. Music is composed by late Visharadha Gunadasa Kapuge, Nimal Gunasekara, Sarath Karunathilake and his father Visharadha Ariyadasa Hapuarachchi.
Music direction of 'Sandwanee' is by experienced music director Nimal Jayakody and it is backed by SLBC orchestra. Hemantha's sister Manjula Hapuarachchi, a music teacher at Maliyadeva College, Kurunegala joins him in singing and the concert is choreographed by Wasantha Rohana.