A note on Anura's notations
With the immense success with repeated editions and due to much demand, musician Anura Wanniarachchi released his second book of musical notations of one hundred songs- 'Gee Prasthara Shathakaya-2'. A rare talent that comes with knowledge of music and experience, Anura's music notations designed for keyboard and guitar with appropriate music chords is in much demand among the musicians and amateur music learners.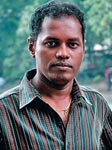 Anura Wanniarachchi
"I was encouraged by many who had seen the book. Sometimes I get letters and telephone calls with suggestions sfor future editions," said Anura with contentment. Having printed more than four editions, Anura's book is in much demand among many Sri Lankans abroad.
'Gee Prasthara Shathakaya-2' prepared with a collection of notations for songs published in 'Ridma' the weekly supplement issued with Sunday 'Lakbima' newspaper, the collection includes selected songs representing different styles, themes and artistes.
For the success of the book, Anura's knowledge of music too immensely helped. Qualified as a singer from the Bathkanda University, India, Anura is ready with his latest project, a collection of his own songs. The music is backed by 'Purple Shadows' music group.
Commenting on his effort, Prof. Sanath Nandasiri, Head of the Music Department of the University of Aesthetic Studies, says "Writing notations for songs is not an easy task. One should have the inborn talent for that. With the knowledge he had gained in music and in singing from India, this had become an easy task for Anura Wanniarachchi,".
As in the previous collection, this also has been published by 'Malpiyali Publishers. As part of the event to mark the release of the book, arrangements are in place to hand over the book to Anura's music guru, Prof. Sanath Nandasiri, that will be held in Kalawana National School, on September 23, 2007.
Anura has also organised a singing competition titled 'Aradhana' to unearth the latest musical talent of the youngsters in the area. Anura resides at 417/5, Welikumbura Road, Kalawana.