Denon DJ Party at Taj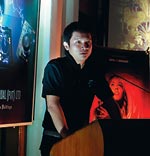 Dick Soh,
A fellowship followed by a cocktail party was held at the Taj Samudra hotel recently for the very first time in Sri Lankan music history for Lankan DJs. Quite a number of Sri Lankan DJs from Colombo as well as from other parts of the country were seen at the event, organized by the Swedish Trading Audio Visual Limited, to promote Denon, the popular DJ consoles from Sweden.
The new Denon DN HD 2500 console was launched at a gala DJ party, where some of the top DJs took the centre stage for mixing party.
The DVD movies of popular Asian DJs in action were shown at the event and the main attraction was the demonstration of new Denon DN HD 2500 console by Swedish Trading Audio Visual DJs.
DJ Kapila was appointed as the Ambassador for Denon in Sri Lanka. Forming of Denon Club in Sri Lanka was also a highlight at the event. 'The club is mainly to promote and upgrade our DJs and the industry. Our DJs use some of the old and less technologically developed consoles. But still most of the DJs are talented and they really need a push''explained Kapila.
Swedish Trading Audio Visual Limited, the official agents for Denon DJ equipment, has few plans to promote Sri Lankan DJs internationally.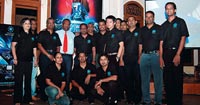 DJs with the team from Swedish Trading Audio Visual
DJ competition with foreign DJs and training in Sweden at the Denon Factory for local DJs are some of their plans for the music industry.
'We will be organizing a workshop for Sri Lankan DJs and I am planning to have a directory for all Lankan DJs' said Kapila.
Dick Soh, representative from Denon Singapore was the chief guest at the event. Dushmantha Senanayake, Director Swedish Trading Audio Visual Limited(STAV), Mohan Abeysinghe, MD, STAV and Neomal Abeysekera, GM, ATVA were also present at the event.