The new Givenchy in Colombo
Givenchy has been an established name in Sri Lanka for almost 15 years now. 'Amarige', 'Insense', and 'Very Irresistible' have become some of the most popular fragrances of all time. Givenchy's hypo-allergenic skin care range is legendary… but recently, the brand has had a total make-over! And not just because of their new 'face' - actress Liv Tyler.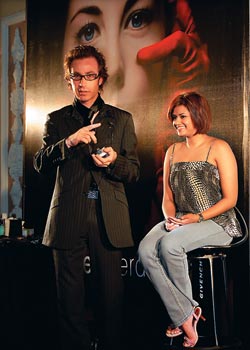 Joseph Dosh: Givenchy official makeup artist in Colombo
Givenchy has launched a new make up range as well as a new fragrance for women. Last week, Parfumerie presented Joseph Dosh, Givenchy's International Make up artist, in Colombo to launch the new make up range - 'Le Makeup' as well as the new fragrance-'Ange ou Etrange.'
The new cosmetics range, created by Givenchy make up's Artistic Director Nicolas Degennes, goes back to the beginning. It takes its inspiration from the 4G logo which is embellished on all the packaging as well as on the famous 'prism' blushers and powers.
Nicolas Degennes has had great fun renewing and emphasizing the Givenchy identity and this fun is reflected in the new colours of the make up as well as the names of the products - 'Captiv'Eyes', 'Lash Sparkles', 'Vernis Please!' and the famous 'Prism Again! Are just a few.
The pivotal part of Le Makeup is its new lipstick - Rouge Interdit. The forbidden fruit of the collection. A carefully-hidden jewel that finally reveals itself from inside the black Lacquer case. A metal tube, engraved with a captivating, geometric design - The 4G Logo, like a secret code. And the beautiful face of Live Tyler on the advertising. This isn't just any lipstick - it is also a fashion accessory, a designer signature.
Four collections are released every year, but this year's most promising collection is the Christmas 2007 collection - a collection as precious as a diamond! Each product is decorated with a 'delicate shower of diamonds.' These products include a shimmering lipstick, mascara with diamond glitter, and a lip gloss called 'pure diamond.'
The new fragrance - Ange ou Etrange, literally means angel or stranger. It plays on the duality in each of us, are we naught or nice? Most of the time the answer is both and this fragrance is the perfect reflection of both those feelings.
It isn't an ordinary floral-oriental perfume. The top note is intriguing and spicy with thyme and saffron, yet inviting with mandarin. The heart is based around the noble Lily, and the base is strengthened with rosewood, vanilla and oak wood.
The bottle reminds us of that perfect piece of crystal hanging from a chandelier, always a mystery with its black and gray gradations of colour. Again, light and dark, the duality - Ange ou Demon?Le Makeup and Ange ou Demon are now available at the Parfumerie - the popular name in fragrances, cosmetics and skin care.