'The Claim' on MTV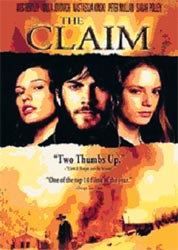 One man's small empire threatens to collapse under the weight of his greed and deceit in this drama that transplants the story of Thomas Hardy's The Mayor of Casterbridge to 19th century America.
In 1867, Dillon (Peter Mullan) is an Irish immigrant who settled in California during the Gold Rush of '49 and has done quite well for himself. Dillon owns nearly every business of consequence in the town of Kingdom Come; if someone wants to dig for gold, rent a room, open a bank account, or even order a drink, they have to go to Dillon to do it.
One of the few profitable enterprises in town that he doesn't own is the brothel, which is operated by Lucia (Milla Jovovich), Dillon's lover. But Dillon sees his hold on the town threatened when Dalglish (Wes Bentley) arrives in Kingdom Come.
Dalglish is a surveyor with the Central Pacific Railroad, which wants to put a train line through Kingdom Come. Dillon believes that Dalglish's plans could pull control of Kingdom Come out of his hands, and he's willing to go to any lengths to see that this doesn't happen.
Arriving in town the same time as Dalglish are two women, the beautiful but ailing Elena (Nastassja Kinski) and her lovely teenage daughter Hope (Sarah Polley); their presence is deeply troubling for Dillon, for they are the keys to a dark secret Dillon has kept from the people of Kingdom Come. On MTV at 9.30pm on Friday.