'Ruch Hour' on Saturday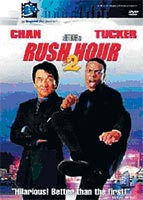 A surprise box-office smash spawns this inevitably action-packed buddy comedy follow-up that reunites director Brett Ratner with stars Jackie Chan and Chris Tucker. Chan is Chief Inspector Lee of the Royal Hong Kong Police, who travels back to China with his American colleague, Los Angeles detective James Carter (Tucker).
The men intend to take some vacation time but are quickly pulled into the case of two murdered U.S. customs agents, who were investigating an illegal counterfeiting scam involving Ricky Tan (John Lone), one of the most powerful Triad gangsters in Asia and an old enemy of Lee's.
Lee and Carter are soon embroiled in a dangerous mystery that also involves a sexy secret-service agent (Roselyn Sanchez), a billionaire hotel owner (Alan King), a dangerous femme fatale (Zhang Ziyi) and a finale set in a lavish Las Vegas casino.