By Susitha R. Fernando
With 'Danga Malla', the tele version of Enid Blyton's 'The Naughtiest Girl in the School', Nalaka Swarnathilake, the famed director has released his second directorial venture 'Anne'.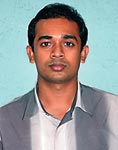 By profession Chief News Editor at Swarnavahini channel, Nalaka considers teledramas for children is the need of the hour. His maiden teledrama based on English children's novels being an immense success with a record telecast of three times in an year, the young director spoke to TV Times about his latest venture.
TVT: What do you have to say about children's teledramas in Sri Lanka?
Nalaka: Even though there is a massive childrens audience for TV, the least identified sector is also the children. There is hardly any children based teledramas in our television. Doing teledramas for children is doing dramas for the family and the future. Anyway I am glad that with 'Dangamalla', people have realised the void in the teledrama for children and the demand for them. I appreciate all the other directors who dedicate work on behalf children.
TVT: What is the theme in 'Anne'?
Nalaka: Compared to 'Anne', 'Dangamalla' is a more light and happy story. 'Anne' is more serious and it makes you think about children and their world seriously. I feel that it will promote to intellectual discussion among the adult world about child rearing and insight into children's world. Adults should know that there are many lessons we can learn from children.
TVT: Do you think the Western setting you selected would be adaptable to the Sri Lankan situation?
Nalaka: 'Anne' is a story set in a rural village, nature, family lives and children who were left alone in their world which are common to our context as well. The story is filled with local flavour and I hope it would suit our society as well.
TVT: Any interesting events while shooting?
Nalaka: The most unforgettable events are the attempts in the search for 'Anne' for the teledrama. Vinuri Ramanayake who plays little Anne was just sitting in a classroom alone when I came across her at Visakha Vidyalaya. She had never acted and from the first audition I realized she was the ideal person for the role.
In addition we had some unforgettable memories with the horse and the cart it pulled. 'Celina' the horse we had borrowed from the Race Course, Nuwara Eliya was not used in a cart and since it was a horse used for races, whenever he sees a big crowd he gets upsets thinking that it is a race. Once we had a dangerous experience where the cart almost fell into an abyss.
TVT: Any special remembrance?
Nalaka: I'm really grateful to late H. D. Premaratne who guided me and encouraged me. And I'm also thankful to Director News Osmand Senaratne and Programme Director Hema Nalin Karunaratne and L. S. Chandrasekara of teledrama Unit and special thanks should go to R. S. Vedio.