I Love Jennie : A comedy of a family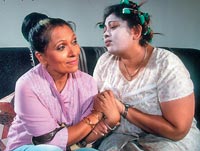 Veteran dramatist Bandula Vithanage' direction "I Love Jennie" is a story revolving around an upper middle class family with each episode containing a separate comic situation. The family members are Father, Allen (Tony Ranasinghe), Mother-Jenny, Anusha Sonali, son-Warren (Lalinda Sampath) and daughter-Natasha (Bhagya Karunathilake).
Allen is a Director in a tele-communication company. He is pressed with work but he tries to keep his family going by showing affection towards his wife Jenny and his two children.
Jenny is a housewife who tries to harmonize all situations. Warren's ambition is to become a pop singer and Natasha's ambition is to become a super model. The character's ambitions also contribute to farcical situations.
Most of the conflicts and situations arise within the family and also sometimes with their lovely neighbours Wimal (Thissa Wijesurendra)and Helen (Maneesha Wijesinghe) involved. The writer has based all conflicts on real people facing unreal or absurd situations which eventually lead to humour and laughter.
The laughter is canned in to the programme to prick the audiences and for better enjoyment of the programme. We sincerely hope that this series will be a novel experience and will reach a wider audience.
Production team includes Nalaka Withanage with script and co-direction, Chinthaka Dassanayake with editing, Sabash Pradeep Jayasinghe as art director. Saneera Kidelpitiya as make-up artiste. Music directed by Buddhika Sri Kahawala, Norbert Rathnasiri is the director photography. Produced by Mark Fernando. 'I love Jennie' is telecast every Wednesday 9.00 pm on Swarnavahini.