Break Fast buffet at the Galadari Hotel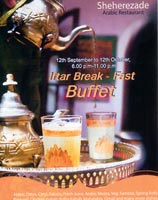 The Sheherezade Arabic Restaurant of the Galadari Hotel spreads out a traditional Break Fast buffet during the month of Ramazan beginning September 12 to October 12 from 6.00pm onwards, for all their Muslim clientele. The Buffet comprises of Arabic Salads/Mezza, Soups, Savouries, MainDishes and deserts.
The buffet will also dish out specialty Arabic main dishes and sweets such as Arabic Mezza, Shish Tahouk, Kofta Kebab, Fresh Fruits, Juices, Canji, Faluda, Dates and many more. The Café 64, Pastry shop will also have a variety of savouries from Vegetable Patties, Cold Mezza Platter. Mutton Samosa, Fish Cutlet, Baked Macaroni, Devilled Seafood Pizza and Khubus (Arabic Bread). Gothamba Rotti, Sahan Biriyani, Deserts include Omali, Gulab Jamun, Arabic Honey Cake, Mahalabiya etc. The Café 64 also offers all guest a selection of Take Way items
For Ramazan Banquet Functions patrons could contact our Banquet Office on ext. 330/332. All Diners will be provided with an area for prayers.