Close call for CR against Army
CR 24 - Army 20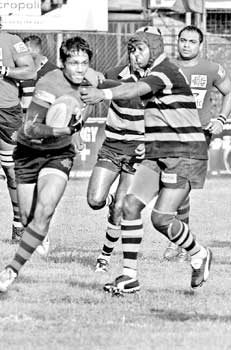 CR's center Lasintha de Costa makes a break for CR watched by Zulki Hameed while Army forwards poise themselves to stop him. CR won the game 24-20. Picture by Ranjith Perera
CR&FC, finalists of the Clifford Cup and the Premier Inter-Club rugby competitions, had a close call against the Army in the President's Trophy quarter-final at Longden Place yesterday winning the game by 24 points to 20.
CR made up their points from 3 goals and one penalty while the soldiers had one goal, 2 tries and a penalty. At half time CR led 14-3.
Army could have won this game if they had converted two penalties and two conversions which came their way. Kapila Knowlton, a usually reliable place kicker, missed them much to the astonishment of the Army fans.
CR was shaken when the Army took a three-nil lead through a 35 meter penalty by Kapila Knowlton in the fourth minute of the game. Army held on to this lead until the 14th minute when CR flanker Senthil Kumar scored a try.
CR was given a penalty. They opted for a short tap which saw Sentil Kumar using his weight and speed to good effect to barge over for a try mid right. Senthil himself converted and CR fans breathed a sigh of relief as they shot into the lead at 7-3.
The fortunes of the game swung to and fro like a pendulum and in the 33rd minute CR extended their lead to 14-3 through the second try by Senthil Kumar. Senthil was still in a kicking mood when he converted the try and CR was comfortably in the lead at the breather.
Army refused to bow down to the red shirts and they fought back with a lot of determination and courage and reduced the lead to 14-8. This came about when center Kanishka Ambugahawela scored a try. Army won a scrum in the CR '25' and they worked the line which saw Ambugahawela dashed past the CR defence to score mid left. Knowlton missed the conversion.
CR extended the lead to 21-8 when they scored a try through center Udaya Hettiarachchi. CR won the ball through a mid field scrum and they worked the line which saw Hettiarachchi scoring the try mid left. Senthil Kumar was at hand to convert it.
Army cut back the lead to 21-13 through a try by winger Handapangoda, which was unconverted.
Senthil Kumar converted a 35 meter penalty to put them ahead at 24-13. Army replied with a 39th minute try through center Duminda Wickremaratne . Knowlton converted and the long whistle sounded with CR ahead at 24-20.
Referee Pradeep Fernando
TODAY:
Havelocks vs Air Force.