T-20 EXPRESS
Johannesburg, Friday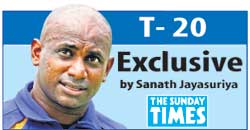 Staged just a few months after the World Cup where we reached the finals and a few weeks ahead of England's tour of Sri Lanka, the Twenty-20 World Cup in South Africa has given our cricketers, and those of most other countries, something to think about.
What most of us agree is that the format of Twenty-20 cricket is still an unknown quantity. While cricketers from some countries such as England have had some exposure to this version of the game in their county circuit, most of our players are new to the concept.
Before this tournament began, Sri Lanka had played only three Twenty-20 internationals, a game against England and two against New Zealand, winning one against each country. I myself missed the second game against New Zealand which we lost. Our first match in this form of the game was in June last year and we played our last Twenty-20 international game nine months ago. This indicates how fresh we are to the format.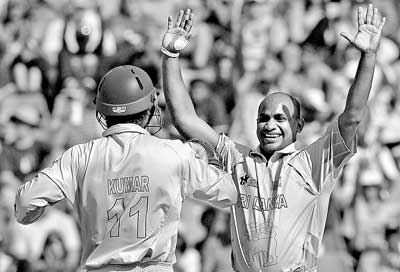 Sanath Jayasuriya celebrates the dismissal of Scott Styris for a duck. -AFP
To proceed from such inexperience to a World Cup is a huge challenge. However, we know that most other teams are in similar circumstances. We also have a few factors of our own which we can count in our favour: we are at the top of our form, finishing runners-up in the just concluded World Cup; also, the attacking and adventurous brand of cricket we play should be ideally suited for a shortened version of the game.
I myself gained some experience playing a few games for Lancashire and I believe that has helped me immensely. Sanga (Kumar Sangakkara) and Vaasey (Chaminda Vaas) did the same but the squad includes a few fresh faces who are relatively new to international cricket itself, let alone the Twenty-20, so we were poised for an exciting tournament.
What everyone is so uncertain of is how to pace the game. In one day internationals, we successfully adopted the strategy of pinch-hitting in the first fifteen overs, then consolidated in the middle overs with the aim of accelerating in the final slog overs.
In the Twenty-20 format, what we have to realise is that while bowlers are restricted in many ways with only four overs per bowler and a free hit for a no-ball, batsmen are not. The full ten wickets are available to bat for just twenty overs, giving batsmen freedom and confidence to go out and hit out. Therefore, the entire game is played with a fast and furious momentum which means that the line and length in bowling and the fielding have to be spot on because it is essentially a batsman's game.
Yet, there are questions for which most teams are still searching for answers. What is a good total in a Twenty-20 game? Is there a significant advantage in batting second and knowing exactly how many runs are needed to win the match? As the tournament progresses, I am sure we will learn more about these aspects.

Confidence is high and the team is looking forward to the challenge
- Sanath
We did play two warm up games against South Africa and Pakistan. If the first game against South Africa was a morale booster, the second game against Pakistan was not. Against South Africa we were able to beat our hosts convincingly, by five wickets with more than an over to spare and I was happy to score a quick 46 from 34 deliveries.
In the game against Pakistan, we did post a decent 162 but the game was taken away from us when the Pakistani openers blasted 94 in nine overs. We learnt the lesson that in this format of the game, a match could be won or lost very, very quickly and that there is precious little time for a reversal of fortunes unlike in one day cricket.
It was with this hindsight that we travelled to the beautiful New Wanderers stadium in Johannesburg to take on Kenya. A day earlier, world champions Australia had been humbled by Zimbabwe, so we knew that every game and every opponent was equally important, given the do-or-die nature of the tournament.
Kenya won the toss and asked us to bat first, as there was some moisture in the wicket. Upul (Tharanga) and I were watchful for a couple of overs but then the runs began to flow. Upul was dismissed in the third over but Sanga walked out and demonstrated that he was in extremely good nick. When Sanga was dismissed, misreading spinner Kamande's line, it was Mahela's turn at the crease to keep the tempo up, which he did with customary elegance.
We had discussed a game plan of sorts and that was to have at least one of the top four batsmen last through the twenty overs. It didn't quite work out that way, because I was dismissed for 88 with more than five overs to go and Mahela was out in the 18th over but I was happy with the way I batted; the timing was good and I was able to find the boundaries with ease, even if the outfield was a bit sluggish initially.
We did get to what we have been told is a record score of 260, helped by some lusty hitting by youngster Jehan Mubarak who scored 29 runs off one over. I am especially happy for Mubarak who has been in and out of the side for some time. He gained confidence from batting in a difficult situation in the warm up game against Pakistan. Now that he has demonstrated his ability at this level, I hope he continues his good form.
Kenya simply didn't have the batting firepower to chase a target that required a run rate of 13 runs an over to be sustained for twenty overs. If they did have any hopes of doing that, Vaasey ensured it did not happen by removing two of their top order batsmen in quick succession inside three overs.
In bowling, I enjoyed my role as a main slow bowler, in the absence of Murali (Muttiah Muralitharan). It goes without saying that I am no Murali and I cannot compensate for his absence but I am working hard at my bowling because this responsibility has been thrust on me and I enjoy the challenge.
Even if the game ended as a one-sided contest, it gave us quite confidence as we prepared to take on New Zealand, a team we have been meeting frequently in the test, one-day and Twenty-20 formats in the recent past. Our passage to the next round is assured because New Zealand have also beaten Kenya and I hope that will help us play our natural game without being under undue pressure.
The morale in our camp is high even though we are in the midst of adjusting to many changes. While the Twenty-20 format itself is a challenge, it is also the first assignment for our new coach Trevor Bayliss. We are settling into a unit with Trevor bringing with him the services of assistant coach Paul Fabrace and trainer Jade Roberts. Our sprint happy physiotherapist, Tommy Simsek of course continues to remain with us.
We have a busy week ahead of us. Regardless of whether we win or lose against New Zealand, we will be playing three games within four days. It will be a taxing schedule but that is the lot of the international cricketer in modern times. Confidence is high and the team is looking forward to the challenge with renewed hope.