When the worm turned!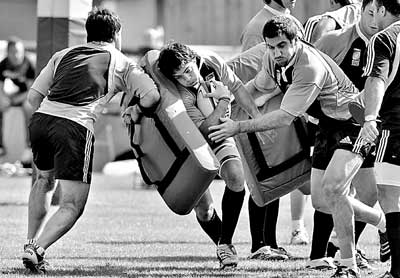 Horacio Agulla of Argentina's rugby team Los Pumas who sprang one the biggest surprises in this year's World Cup with their win against hosts France, attend a training session at Georges Lyvet Stadium. REUTERS.
Why are the minnows there where giants are expected to clash? This is what is talked about as those teams that do not belong to the bigger league get bashed about. The first week created no major upset other than Argentina disrupting the hopes and plans of the host nation in the opening match of Rugby World Cup 2007. Teams that came into focus other Argentina were Namibia and Japan. The first week of rugby has given the opportunity for the big guns to stretch their limbs. The games with the not so hot nations have made them pass and run in circles round their opponents scoring at will.
England who has failed to impress since Johnny Wilkinson kicked them to victory at the last World Cup final seems to have its own problems. Wilkinson was not available for the game against the South Africans. The problems they faced did not end there. The captain Phil Vickery too was not in the line up after receiving two match ban for foul play.
World Cup bosses have delivered on their threat to crack down on violence at the tournament. The judiciary has made examples of South Africa flanker Schalk Burger, England captain Phil Vickery and USA centre Paul Emerick following the warning that was given at the start of the tournament.
Burger will not play again at the cup unless his team reaches the semi finals. He was banned for four matches after he was found guilty of a dangerous tackle.
Vickery is also out for two matches for tripping Emerick in the match against the US. Emerick was suspended for five weeks for a dangerous tackle, ending his Cup campaign.
Noteworthy performance were that of Argentina against France, Namibia against Ireland and Japan against Fiji. Argentina got the better of France while Namibia and Japan did not have the luck to create a major upset. More than luck it was the absence of experience and or match practice that made them lose at the post. It will be Argentina's tale of woes too as they progress.
Though Ireland won their opening World Cup match they were far from convincing. The roaring of approval in Bordeaux was for Namibia who took the game to the Irish. Their players were giving their best while the IRB confirmed that Namibian Rugby Union President and his entire executive committee have been barred from attending the World Cup in France. This follows an IRB investigation that revealed an alleged breach of the RWC's ticket sale regulations.
Argentina's rise has made their presence to be taken notice of while the Namibians' cause is less celebrated. They simply don't get to play enough international rugby. Their most capped player against Ireland was Heino Senekal, who has 25 caps top his credit. Compare this to Brian O'Driscoll playing in his third World Cup has played 76 times for his country. Given a little more know-how on Sunday they might just have pulled off the biggest World Cup shock.
Japan already plays in the Pacific Rim 6 nations with Australia A, the Junior All Blacks, Fiji, Tonga, Samoa. This seems not to be enough. More often in Asia Korea always play Japan, or may be Japan plays Hong Kong. Is this enough if they are to challenge the big boys? . The Namibians as well as the Japanese have to play more matches. Even cross border club tournaments. . For Japan can it be among the Asian nations?
What is all this to do with Sri Lanka and Asia. As we sit down and inform the expectations of the Asiad in November.. We have to forget that some countries did not come for the Singer Sri Lanka. We got to forget that some countries may not come for the Asiad. We got to take all opportunities that come our way and play as much as possible. If we are to be among the top teams in Asia we need the exposure. If we did then we possibly could have been champs at the Sri Lankan Singer Sevens. The boys played very well. The commitment the passion and the talent were there. It was really visible to all. What we need is the finesse that will make us a champion side. That will come from playing more and more matches. Whether it is a Sri Lanka sevens with 10 teams or an Asiad with twelve teams: you got to make the best of what is left. Learn from the experience and drive to the top.
May be Japan would not be there. They have other objective in mind. So why cry over and create headlines as though the whole world is lost. For Japan where do they go in the world rankings as they play Asian countries considered weaker compared to their strength? Let them achieve their mission. Let us make our vision a reality by taking the opportunity and play to be in front. .Forget about non starters and get along with what we have.