Their mission to say thank you
Dainty little Rishmiya Banu was all smiles as she walked up to greet her doctor Conal Austin last Sunday. Her parents watching her with pride had tears in their eyes, remembering the time, not so long ago when Rishmiya was a very sick little girl. The family had travelled all the way from Kurunegala to Galle in damp and dismal weather but it was a journey they made with great eagerness. They were there to express the deep gratitude they felt to the team of doctors, nurses and other medical personnel who travel from London each year to help Sri Lankan children like Rishmiya who suffered from congenital heart diseases.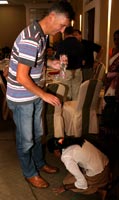 Chamali shows respect to the doctor who saved her life.
The Guy's Paediatric Cardiac Surgery Mercy Mission were this week on their fifth visit to Sri Lanka. Arriving in the early hours of Sunday, the 9th, they had driven straight down to Galle. But before the mission could begin their life-saving work on Monday morning at the Karapitiya Teaching Hospital, they had a special invitation to meet this group of parents who wanted to say 'thank you' to the team who had operated on their children in years past and saved their lives.
The simple ceremony was organised by The Sunday Times in association with the Lighthouse Hotel in response to a request by parents whom The Sunday Times had interviewed during earlier Mercy Missions. The Lighthouse Hotel generously supported this gesture by hosting the event and providing a delicious tea for the gathering.
The parents 'thank you' came in the form of a sterling silver tray in the shape of Sri Lanka which Rishmiya presented to Mr. Austin, surgeon and team leader of the Mercy Mission. Rishmiya who had had a heart problem since she was 1 ½ years old, had been taken to the Karapitiya Teaching Hospital to consult Dr. Namal Gamage, Consultant Cardiothoracic Surgeon. "The foreign doctors were doing the operations in the hospital when we came and Dr. Gamage directed us to them at once," her parents said.
For many of the parents who were present that evening the reunion with the Mercy Mission was an emotional one. For the members of the team too it was immensely gratifying to see the young ones they had nursed in intensive care walking around happily. Many were the photos taken and hugs exchanged.
Young Chamali Dilrukshi who had come from Baddegama said that she suffered from a VSD (Ventricular Septal Defect) which made her go blue if she experienced stress or became tired.
Chamali's mother K.G. Premawathi told The Sunday Times that Chamali had been suffering from this illness since she was 11 months old. "Dr. Gamage did the first operation and asked us to wait till these doctors come from abroad as the second operation was a major one," she said. Today she is able to run and play; while earlier she could not even walk to school.
Making the journey from Gampaha was Mrs Indika Janithakumara who recalled how they had gone from hospital to hospital, and finally to the Karapitiya Hospital for the operation of her son. Tharushan Pathiraja, just 2 ½ years old was operated on during the last Mercy Mission.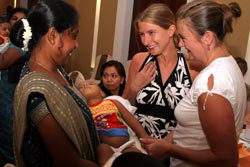 The nightingales of the Mercy Mission share a light moment with a parent
Fourteen-year-old Maduka Niroshini too was operated by the doctors of the Mercy Mission as she had a hole in the heart. "The doctors told us that they cannot cure her. But now she is a lot better," G.A. Chandrawathi, Niroshini's mother said.
Speaking on behalf of the parents, Mrs. Samanthika Fernando of Ragama whose daughter Silumini was one of those operated on during the first Mercy Mission said they were deeply grateful to the team. "When we had no hope, you came and saved us," she said. Silumini and her parents were also flown to London by the team in November last year and had the privilege of meeting British Prime Minister Tony Blair and Mrs. Blair at a ceremony where Mr. Austin was honoured for his work with a 'Children's Champion Award'.
Jai Lameer, the London-based Sri Lankan coordinator and trustee of the Mission who has been the driving force behind the Mission also made a brief speech thanking all those involved in supporting the Mission. The Mercy Mission was born when Mr. Austin who had performed heart surgery on Jai expressed a wish to help the children of Sri Lanka, with Jai making the necessary arrangements. Mr. Austin enlisted the support of cardiologist Dr. John Simpson and the first Guy's Mercy Mission came to Sri Lanka in 2002.
Rushing back from Karapitiya Hospital where he had gone to check on the little patients he would be operating on the next day, Mr. Austin said he was delighted to be able to meet this group of parents and children again.Mr. Austin also presented a token of appreciation to Dr. Gamage who briefly spoke on the valuable work done by the Cardiology Unit of the Karapitiya Hospital from its beginnings in 1999.
This year's Mercy Mission team comprised Mr. Austin, Consultant Surgeon / Leader, Dr. John Simpson, Consultant Cardiologist/Deputy Leader, Dr. Craig Bailey, Consultant Anaesthetist, Dr. Iain Johnstone, Consultant Intensivist, Dr. Lee Ferguson, Specialist Registrar, Jane Stenhouse, Intensive Care Sister, Clare Stenning, Intensive Care Nurse, Jennifer Budd, Intensive Care Nurse, Emma Broom, Intensive Care Nurse, Rodylene Zaldivar, Theatre Nurse, Geoffrey Steers, Perfusionist and Mr. Lameer, Coordinator/Trustee. They completed their current Mercy Mission on September 15.