When children play, the world wins
It sounds easy doesn't it? Helping individuals and communities rehabilitate towards normality in the aftermath of conflict or disaster using the international language of sport.Wherever you look there is conflict, from domestic to all-out war and all points in-between. In its own way, conflict of any kind can be equally devastating from the viewpoint of that most vulnerable section of society, children.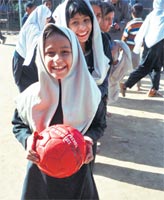 Children playing with the symbolic Right To Play
Red Ball
And when traumatised children look to authority figures for answers, even the most learned and articulate struggle to make sense of it to a child's understanding. But this is the remit of "Right to Play", an athlete driven international humanitarian organisation. Theirs is the task of readjusting and teaching children, families and communities to cope with the horrors they have witnessed and, through the medium of sport, build bridges between a dismal, surreal past and a realistic, civilised future. Michael Bedford is "Right to Play" Regional Director and is in Sri Lanka to promote their post-tsunami operations in Matara and Hambantota.
"We began here primarily because of the tsunami in 2004. What generally happens in a case like this is there is a concentrated relief effort followed by a rehabilitation period but then, as time goes on, project focus begins to dwindle. The trauma suffered by those who witness such catastrophes lasts much longer and the psycho-social impact on children has been found, in some cases, to be overlooked."
Aside from the obvious psychological scars, it is worth remembering that establishments and infrastructure were also significantly damaged. Without schools and their teachers, how do you educate?
"The immediate goal is the acquisition of personnel. "Right to Play" is a long-term proposition and we hope to teach our philosophy to local people so they can continue to implement the projects that we have started. We are setting up training workshops on site to achieve this sustainability. The trained staff will then arrange activity sessions with children to teach valuable life skills through sport, games and fun. We take a holistic approach to the development of children using fun as a tool."
"Right to Play" evolved from "Olympic-aid" and the five iconic coloured rings that symbolise the Olympic ideal have been re-invented. The colours have been assigned to that unmistakable symbol of sport – the ball. And the five coloured balls represent different areas of a child's development.
Red – The Mind. (Building the desire for learning and increasing attention spans during academic pursuits.)
Yellow – The Spirit. (Building individual confidence and self esteem.)
Black – The Body. (Physical development.)
Blue – Peace and co-operation
Green – Health Education. (Alerting youngsters to the dangers of smoking and other harmful habits. The value of immunisation and other health awareness issues.)
These coloured balls are conceptual and are designed to instil child development knowledge by regular and repeated play lessons. Simple games like "Over and Under", where any object can be passed to a team-mate over the head and between the knees alternately, means that resources aren't squandered on expensive equipment. But more importantly, this particular game is an excellent graphic representation of a simple health message. The up-and-down movement reflecting temperature patterns of transmittal diseases such as malaria and dengue.
Four of the balls are to do with the self. The blue ball however symbolises the wider concepts of peace and co-operation. The theory is this: Hostile emotions can be handled objectively if you have to rely on a team-mate whom you regard as a traditional enemy. By having common goals and in seeing your foes humanised, barriers begin to crumble and an understanding of the other guy's point-of-view becomes clearer.
This is particularly relevant when you consider other kinds of victims. We have all seen shocking images of armed, battle-hardened children or even regular kids whose youth, innocence and desire have been suppressed when all they want to do is play. But tangible signs that "Right to Play" is working come in small, every-day victories. They have the partnership of UNICEF who will continue to fund their projects in Sri Lanka until January 2008 and other local partners.
"We don't want a perpetual presence here. We are active in 23 countries worldwide and the best success we could hope for is to hand over the reins. We want to be able to leave and say that the job has been done." Those interested in "Right to Play" may contact Prema Pinnewale: 0777709698.
e-mail: pmprighttoplpay@sltnet.lk. URL: www.righttoplay.com