Sigiriya wasps and a stinging indictment of our society
There seems to be much ruckus over the wasps at Sigiriya. But has anyone ever observed how our fellow citizens conduct themselves on the trek up and down the regal rock?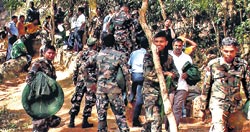 Not a war against wasps: Security forces from a nearby camp rush to the Sigiriya rock to help those attacked by angry wasps. (File picture)
The last time I climbed Sigiriya was in August 2005 (and I doubt much has improved two years later). I was appalled at the manner in which the youth behaved. As we walked and sometimes inched our way up and then down the precarious rock, there was not much of consolation to be had when one contemplated the narrow, corroded iron railings in the context of the sheer drops encountered in some places and the gusty wind that suddenly swept across as an extra element to contend with.
Regardless of all that, the male youth were singing, whistling, shouting and jostling. After restraining myself for a while, I was compelled to, on a couple of occasions, at the end of my tether and quite concerned over my safety, turn around, stand my ground, and ask, "Can you please not push?" Not just the wasps, anyone will want to go on the attack (or defence, as the case may be) with that kind of behaviour.
To me, this whole saga of a wasp-attack does not come as a surprise but something that was just waiting to happen. The authorities need to do something not with the wasps that have been on the Sigiriya rock for centuries. Something obviously needs to be done with the people who clamber that rock indecorously; heedless of the danger they put themselves and others in.
In 2005, I reported the matter to security personnel at the rock. One official sighed and declared in resignation, "What to do! Unfortunately that shows the levels to which our people have descended to." He said that no matter how much they requested discipline, it was not forthcoming, and they had little authority to rigorously implement any kind of order.
I agree with what the villager said (The Sunday Times article of September 2) about wasps usually not attacking unless they feel threatened. This is what I have learnt in life, too. Not just with wasps but with any animal of the flying, crawling or walking sort.
This clamour over the stinging wasps is akin to the uproar humans create over elephants damaging houses and crops when it is the humans who have encroached upon the land of the animals, squeezing them into minimal space.
As I read about agitated wasp brigades, elephants poached and poisoned and dying with fatal gunshot injuries, the dog Kalu which was callously run over (and so many of these sadly occur without being reported), felling of trees in protected forests, and landslides, floods and droughts, I keep thinking that until humans learn to respect the earth, nature, and all living beings that share this planet with us, Mother Nature will keep on heaving and bringing misery to humankind.
We need to re-establish the kind of respect our forefathers had for the land and animals. Perhaps a good example to follow is the Native American treatment of the planet and all beings that exist on it and because of it.
It is time that humans started to understand the animals and trees instead of looking at all of them like pests to be obliterated. Life will be that much easier and better for all of us with civic-consciousness, compassion and understanding.